| Integration Feature | Sugar + Act-On | Sugar + Hubspot | Sugar + Marketo |
| --- | --- | --- | --- |
| Bi-Directional leads and contact data sync | | | |
| One-way sync of accounts and opportunities | | | |
| Hot Prospects automated lead prioritization | | | |
| Marketing timeline on leads and contact view | | | |
| Send email from leads and contacts view | | | |
| Website prospector available to sales | | | |
| Advanced CRM Mapping (Custom record data sync) | | | |
| Sync with target and target lists | | | |
| Integration done in <1 hr with little/no IT help | | |  (days/weeks) |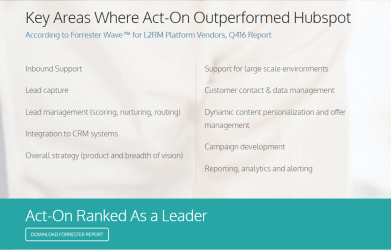 Key Areas Where Act-On Outperforms Hubspot
Inbound Support
Lead capture
Lead management (scoring, nurturing, routing)
Tighter Integration to CRM systems
Overall strategy (product and breadth of vision)
Support for large scale environments
Customer contact & data management
Dynamic content personalization and offer management
Campaign development
Reporting, analytics and alerting
Key Areas Where Act-On Outperforms Marketo
Advanced CRM Mapping
Sending emails from leads and contact view
Marketing timelines on leads and contact view
Hot Prospects automated by lead prioritization
One-way sync of accounts and opportunities
Bi-Directional leads and contact data sync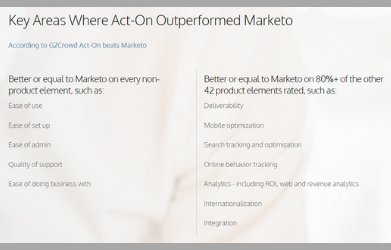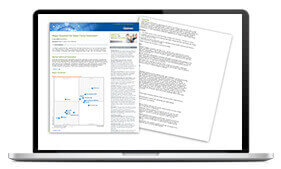 Act-On Ranked As a Leader
Act-On Named a Visionary in the Gartner Magic Quadrant for CRM Lead Management for 2018
Act-On is a Visionary in Gartner's Magic Quadrant, based on its stand-alone lead management application, client and revenue growth, industry vision and value-based pricing. Download the research and learn why.
Act-On's Product Vision Supports the Future of Marketing
Act-On's vision provides an added layer of intelligence for marketers, allowing them to predict, adapt, and respond to the way each customer wants to be engaged so that you can deliver more precise, more personalized engagement paths for your buyers and customers.
Integrations with CRM and key marketing technology
Act-On provides five native CRM integrations in addition to custom packages, making it easy for you to create that end-to-end solution. In addition, we are committed to further expanding our martech integrations library with the newest technologies.
Download Forrestor Wave Report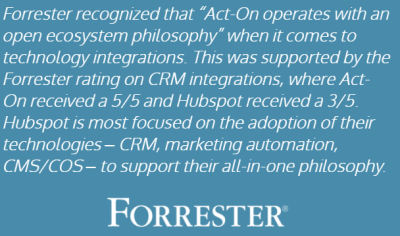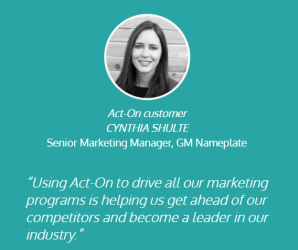 Act-On Meets the Needs of Growing Companies
Growing companies have unique needs for their marketing automation platform, and that's where Act-On is focused when we partner with you. Everything from our product development roadmap, security requirements, to contract flexibility, we've got your back. We aren't distracted by freemium offerings targeted at small businesses focused on staying small.
Act-On Enables Customer Lifecycle Marketing
It's no longer about inbound vs. outbound. Marketers need a comprehensive marketing automation platform that supports their key goals at every stage – from brand to demand to expand – for true end-to-end lifecycle marketing.
Act-On's Pricing is Focused on the Value You Receive
Act-On supports a unique pricing model, unlike Hubspot and other vendors who often price based on total database size. Act-On focuses our pricing on when we drive value for you, which is when your contacts actually engage.
Superior Time-to-Value and Support
All Act-On customers receive a named onboarding manager to ensure you see value from your investment quickly. In addition to ongoing access to training and support services for the lifetime of our relationship.