Hint Works Its Magic
With just a name and an email. . .
Every business is unique – but they all have one thing in common. Everyone wants to build great customer relationships while growing the business. With Sugar, you can build a system that supports your big ideas, instead of limiting them.
What Analysts Are Saying About Hint
Nucleus Research shares its first impressions
Nucleus writes, "Many vendors and ecosystem partners have made investments to make social network, Web, and other data more accessible to sales people when they need them. The advantage of Sugar's approach is the ability to select specific data and quickly pull it into the CRM account profile in the context of a particular opportunity a sales person is working on."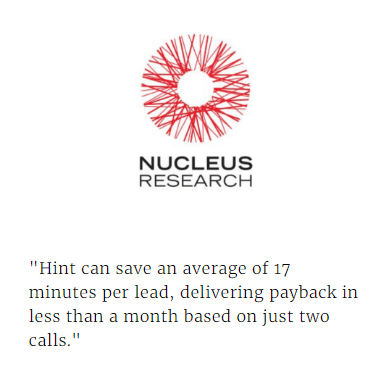 Better Customer Experience
Eliminate awkward introductions and connect right from the first outreach. Engage more customers by providing actionable intelligence to all customer-facing employees.
Better Conversion Rates
Add intelligence to every stage of your sales, customer service and marketing workflows and boost lead acquisition to opportunity close rates.
Better Productivity
Eliminate time consuming web research and manual data entry and get back more time to connect with and service customers.
Better CRM Adoption
Make Sugar the go-to customer data platform for your sales teams by providing reps a superior user experience with a tool they'll actually want to use.