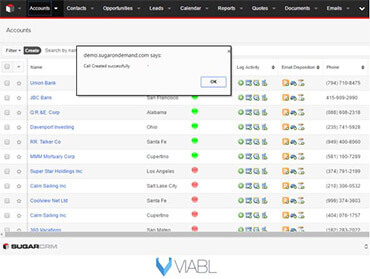 Relationship Automation
Viabl's relationship automation functionality turns SugarCRM into a proactive relationship automation machine.
With Viabl in Sugar:
You know when it's time to reach out to customers and contacts.
Sales and account executives can increase their revenue per customer.
Businesses can improve customer retention and increase CRM user adoption
SugarCRM Relationship Notifications
Viabl utilizes your Sugar activity data to tell you when it's time to reach out to your customers and contacts. Then, Viabl comes to you with suggested actions.
Viabl streamlines the sales and account management process by enabling a proactive approach to relationship management in Sugar.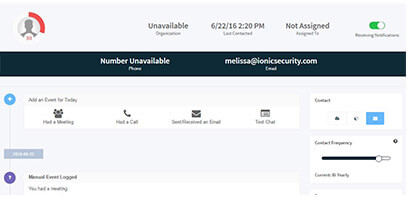 Set the Contact Frequency and Viabl Does the Rest
Viabl's Green, Yellow and Red Contact Frequency Indicators keep you up to date on the contact status of Accounts, Contacts, Leads and Opportunities.
Review and manage data like Call Frequency and Days Since Contacted in Sugar's list view and record view.
One-Click Activities
Out of the box, it takes 24 clicks and keystrokes to log a voicemail in Sugar. Reduce that number by as much as 94% with Viabl.
Viabl's one-click Disposition Buttons make SugarCRM more efficient and improve end user adoption.
Streamline contact related activities like call logging and sending email with Viabl.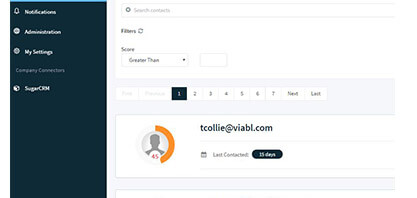 Reporting With Data From Viabl
Sales managers can ensure that contacts are being reached in a timely fashion and on a recurring basis.
Run reports using data from Viabl to determine how well your sales team conducts outreach.
Ensure that no opportunity is left on the table.