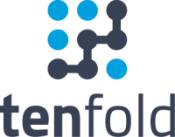 Why Tenfold?
Tenfold is a modern performance platform, built on cloud technologies and focused on unlocking the full value of customer relationships in a recurring revenue world.
Tenfold helps companies grow revenue by enhancing prospect and customer interactions, providing a framework for sales, service and support best practices, increasing organizational technology adoption and offering high-level actionable analytics.
How It Works with SugarCRM
Tenfold seamlessly connects your existing phone system with SugarCRM in a matter of minutes, allowing organizations to capture every customer and prospect interaction, increase productivity, reduce response time and build better relationships.
With Tenfold in Sugar you've got Advanced Data and Reporting.
Advanced analytics dashboard and reporting
Company-wide, team-based and user analytics
Real-time and historic data
Total Calls/Talk-time
Average talk time
Connect rate by hour
Lead response time
Gamification/Leaderboards
Embeddable reporting inside SugarCRM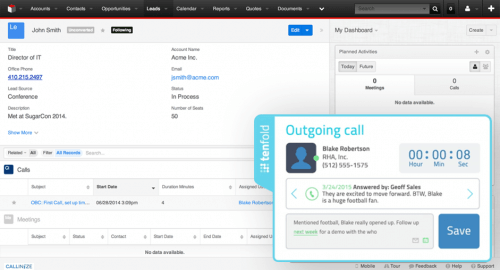 Increase Productivity and Reduce Response Time
Tenfold enables click to dial on any phone number in SugarCRM, eliminating time spent manually dialing numbers. Tenfold automatically logs all of your calls with accurate call data, letting reps immediately move on to the next call and ensuring data integrity.
Tenfold helps your team measure and reduce response time to inbound leads through it's native connection to SugarCRM helping improve conversion rates and capture more value on marketing spend.