SugarCRM vs Salesforce
Out with the old. In with the new.
Recognizing that price was a key factor in CRM decision-making, Chris Bucholtz, Editor in Chief of CRM Outsiders, conducted a CRM Total Cost of Ownership study released in 2011 that examined all hidden costs and fees. Bucholtz's study found that the cost of a 10-user Professional version of Salesforce.com was more than double that of a SugarCRM Professional version, at around $22,000 vs. $10,000 respectively. Though Salesforce is known as one of the most recognized CRM companies due to their longevity in the market, they are now struggling to compete with Sugar's flexibility and price.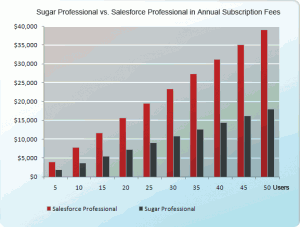 Check out our SugarCRM vs Salesforce feature comparison. Some of the key factors to note include:
Sugar is open source and completely customizable and flexible. There is nothing that Sugar cannot be made to do. Salesforce requires you to use their proprietary tools and has limitations.
SugarCRM has no limitations to the number of custom modules and work flow. Salesforce DOES have limits.
SugarCRM, through SugarExchange, has more than 5,000 integrations with other applications, while Salesforce has fewer than 1,000.
Sugar can be hosted at Sugar, at any 3rdparty of your choice, or on your own servers. Salesforce requires you to host in their data centers.
SugarCRM does weekly database backups, while Salesforce only does monthly backups (they'll charge you if you want to back up more frequently).
Sugar Professional comes with Free Mobile (for both looking up data and entering data). Salesforce.com charges extra for for the ability to enter data from a mobile device.
With SugarCRM, every customer has their own database. In Salesforce, all users from all companies share one big database.
Sugar software pricing is dramatically lower than Salesforce.
Download this overview of SugarCRM vs Salesforce
Let us know when you're ready for the next step, and we'll make it happen.