SugarCRM Overview
---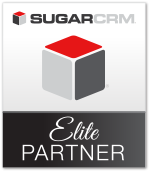 FayeBSG is proud to offer one of the leading applications in client relationship management solutions: SugarCRM.
Over 6,000 customers have chosen SugarCRM services as an alternative to lock-in based, proprietary customer relationship software. Going above and beyond basic CRM, Sugar will help you understand who your customers are and how your company is performing.
SugarCRM enables businesses to create extraordinary customer relationships with the most innovative and affordable customer relationship management (CRM) solution on the market. By placing the individual at the center of its solution, SugarCRM is putting the "i" in CRM and empowering people at all levels of an organization to better understand and engage with customers. Based in Silicon Valley, SugarCRM is backed by Goldman Sachs, Draper Fisher Jurvetson, NEA, and Walden International. More than 1.5M individuals in over 120 countries rely on SugarCRM.
How Will Sugar Work for You?
The advantage of utilizing tools such as Sugar are numerous. First and foremost, customer relationship software enables you to understand who your customers are and how your company is performing. Second, it provides valuable insights across the sectors of marketing, sales and support, allowing everyone to work toward common goals. In addition to these benefits of CRM, Sugar measures results so your company can improve overall performance.
Start with viewing these short demos:
View the Sugar Product Overviews for information on marketing, sales, support, reporting, collaboration, and the SugarCRM platform.
Which addition is right for you?  Visit the Sugar Edition Comparison Page
Sugar Subscription Datasheets:

---

CRM White Papers Gartner Names SugarCRM a Sales Force Automation Visionary
SugarCRM has been named a Visionary in the Gartner Magic Quadrant for Sales Force Automation for two consecutive years. Learn why! How can your company scale its customer base without scaling your support organization? This white paper details the strategies necessary to implement a responsive, agile support system that builds a loyal customer base in a cost-effective manner. This white paper will provide an overview of the most common employee pitfalls encountered during implementation of CRM tools and how a well-planned training program can ensure end-user compliance. This white paper outlines the key ways in which open source CRM can drive performance in your sales organization. This is the first in a series of Executive Briefs aimed at business departmental leaders' unique CRM issues. Learn how to recognize the causes of these inefficiencies and the steps you can take to resolve those conflicts in your sales organization. The rise of Software-as-a-Service (SaaS) is changing the way enterprises pay for and use customer relationship management (CRM) software. Should your company's CRM system be managed by an outside vendor or managed internally by your own IT staff?

---

Try Sugar Free For 7 Days. No credit card required. Nothing to install. Get up and running in under a minute!

---

Contact us today to arrange a free demonstration of SugarCRM: