Faye Business Systems Group (FBSG) is not only a MAS 90 reseller, but we have certification as a Sage Software Master Developer, Sage Authorized Partner and Sage Certified Trainer. We provide Los Angeles businesses with unparalleled Sage software solutions, but our services don't stop there.
Whether your Sage MAS 90 or MAS 200 was implemented by FBSG or by another Sage MAS 90 and MAS 200 Authorized Partner, we are happy to provide support to all MAS software (90 and 200) users who are looking to get more value from their Accounting Software.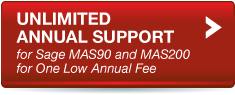 Our many support options include:
Client Data Resource System
Through the use of our Client Login section, our clients can gain online self-service access to our knowledgebase, support database, procedures documents, and White Papers. This is often the first thing our clients will try when they are faced with an issue, and many times this information is all that is needed to address a particular issue. Our Client Data Resource System is a great time saver for our clients.
Phone
If the Sage MAS 90 Resource System can't provide an answer, give us a call. In general, most phone support calls are either answered immediately or returned within one hour. We have knowledgeable and dedicated MAS 90 support staff whose primary responsibility is phone support; you get their full attention.
Remote System Support
For more complex issues that can't be resolved via phone, we can connect directly to your computer to address the problem. Through the use of industry standard software like Go To Assist, Go To Meeting, and Remote Desktop Support, we can remotely connect to our clients' systems whenever or however needed to provide MAS 90 support.
Onsite Support
Sometimes even the best remote connections aren't sufficient, which means it's time for FBSG to go onsite to solve your MAS 90 software issues. When all else fails or when nothing else will do, our consultants are available for onsite support as needed. Don't hesitate to contact us for onsite support if you feel this is the best option to get the problem solved quickly and effectively.
Support Contracts
FBSG is pleased to offer UNLIMITED remote, phone, and email support agreements for our Sage MAS 90 and MAS 200 clients. Assisting you with your MAS 90 software is of utmost importance to us and we are here to help you by whichever means is most convenient and useful to you. Click Here for details.