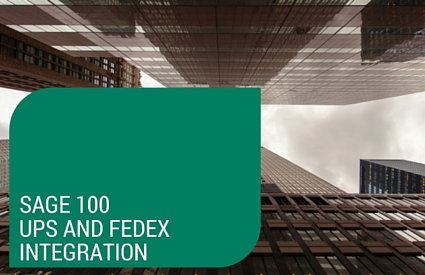 Our UPS & FedEx Integration allows you to easily import tracking numbers, ship dates, and freight amounts from your UPS or FedEx shipping software. Imports can be automated on a schedule without human intervention. In addition, tracking numbers are imported by sales order numbers and can later be linked to invoices automatically.
Other imports require an invoice number to be known prior to importing, but our enhancement only requires that export of the related sales order number from the shipping software. This means you can import data and use the imported information no matter how your business works.
Contact Us for More Information
Import tracking numbers, ship dates, and freight amounts
Works with UPS Worldship and FedEx Shipment Manager standard export functions (no special programming required)
Data can be imported into sales order, invoices, or both
Process can be completed automated and run from Windows Scheduler. UPS and FedEx Software can be configured to automatically generate export files, and a scheduled task can be configured to automatically import data into Sage 100.
We're consistently adding more features as we get more feedback from clients, so please check back frequently to see what new points of integration have been added to date.
Click here to view our Sage 100 UPS and FedEx operating manual for more information.
Coming soon, contact us for details.
The FayeBSG Sage 100 UPS and FedEx Integration is Compatible with Sage 100 (aka MAS 90 and MAS 200) versions 4.3 and above.
Data consistency is the responsibility of the end user.
Purchase includes software and operating manual
Annual maintenance includes email support, upgrades, and updates throughout the year
Support emails go to support@fayebsg.com
Costs do not include professional services other than email support
Implementation services not included but recommended. Call us for implementation pricing @ 818-280-4820.
Options
---
Software Cost
$1999
Annual Maintenance
$398.80 per year.
*Maintenance includes email support, upgrades, and updates with new features as well as for all new Sage versions as they are released.
Contact Us for More Information
---