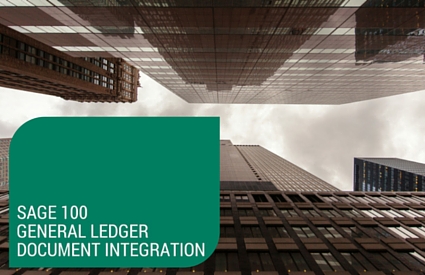 Our General Ledger Document Integration for Sage 100 allows you to easily link any document or set of documents to general ledger journal entries in your Sage 100 software.
The General Ledger Document Integration provides you with flexible setup capabilities so you can name and store your documents the way that works best for you.
Contact Us for More Information
Integrate scanned documents into GL Journal Entry History Inquiry screens
Integrate scanned documents with GL Account Inquiry Transaction screens
Store documents in one "document folder" or in specific folders by source journal
Implement required manager approvals for journal entries to prevent posting without approvals
Find scanned GL documents using Sage 100's powerful searching capabilities and avoid implementing costly document management software
We're consistently adding more features as we get more feedback from clients, so please check back frequently to see what new points of integration have been added to date.
Click here to view our Sage 100 General Ledger Document Integration operating manual for more information.
Coming soon, contact us for details.
The FayeBSG Sage 100 General Ledger Document Integration is Compatible with Sage 100 (aka MAS 90 and MAS 200) versions 4.3 and above.
Data consistency is the responsibility of the end user.
Purchase includes software and operating manual
Annual maintenance includes email support, upgrades, and updates throughout the year
Support emails go to support@fayebsg.com
Costs do not include professional services other than email support
Implementation services not included but recommended. Call us for implementation pricing @ 818-280-4820.
Options
---
Software Cost
Call us at 818-280-4820
Annual Maintenance
$398.80 per year.
*Maintenance includes email support, upgrades, and updates with new features as well as for all new Sage versions as they are released.
Contact Us for More Information
---