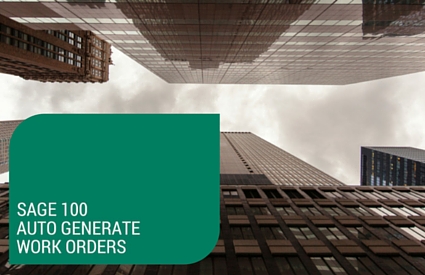 The Auto Generate Work Orders (AGWO) enhancement for Sage 100 streamlines and automates the process of creating work orders associated with purchase orders that have already been entered. This is especially valuable for organizations that inventory all components for finish goods but outsource the labor for the production or manufacturing of the actual finished goods themselves.
The AGWO enhancement allows users to automatically generate a work order for the finished good after a purchase order for the related outsourced labor is entered. In addition, when the purchase order is closed, the enhancement can automatically close the work order and generate the entry that adds the finished good into inventory and issues the component items out of inventory.
Contact Us for More Information
Eliminates significant manually processes
Automatically creates work orders based on purchase orders
Automatically closes work orders based on receipt of goods
Improves accuracy of work order processing
Increases speed of entries
Improves timeliness of inventory information
Improves visibility of inventory work in process
We're consistently adding more features as we get more feedback from clients, so please check back frequently to see what new points of integration have been added to date.
Click here to view our Sage 100 Auto Generate Work Orders from Purchase Orders operating manual for more information.
Coming soon, contact us for details.
The FayeBSG Sage 100 UPS Auto Generate Work Orders from Purchase Orders Enhancement is Compatible with Sage 100 (aka MAS 90 and MAS 200) versions 4.3 and above.
Data consistency is the responsibility of the end user.
Purchase includes software and operating manual
Annual maintenance includes email support, upgrades, and updates throughout the year
Support emails go to support@fayebsg.com
Costs do not include professional services other than email support
Implementation services not included but recommended. Call us for implementation pricing @ 818-280-4820.
Options
---
Software Cost
Call us at 818-280-4820
Annual Maintenance
$398.80 per year.
*Maintenance includes email support, upgrades, and updates with new features as well as for all new Sage versions as they are released.
Contact Us for More Information
---