What is Quick Base?
An award-winning, no-code application development platform
Teams of all types use Quick Base to easily collect, track and manage information and automate manual processes
More powerful than spreadsheets, and more flexible and easier to use than heavy, off-the-shelf software, Quick Base is fast, flexible and IT-approved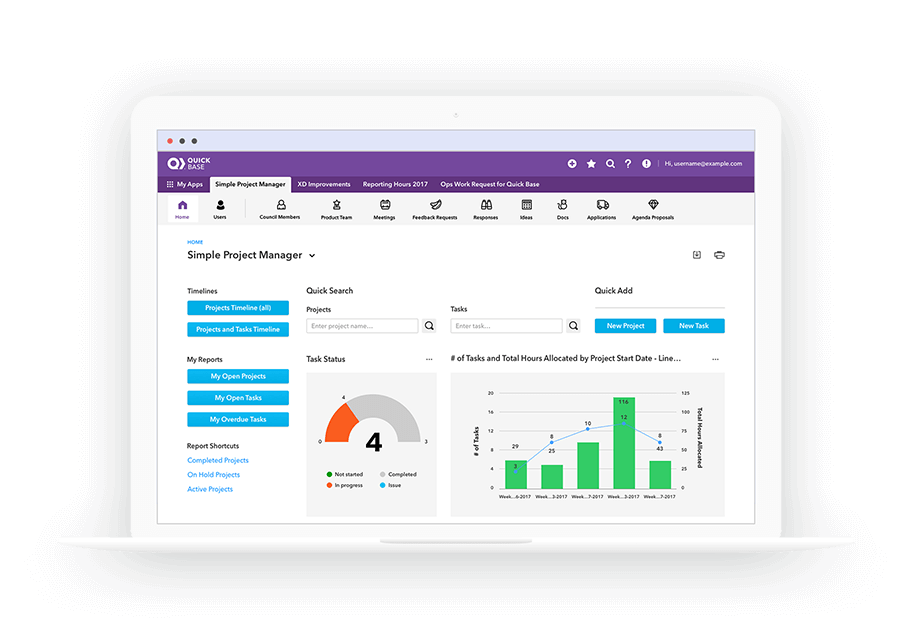 How Quick Base Helps
So what, exactly, can you do with Quick Base? Among other things…
Service Requests
Give customers what they want – five-star service and quick resolutions to their issues.
Order Management
Consolidate orders from different sales channels and fulfillment locations for on-time delivery.
CRM & Sales Management
Configure your CRM to work the way you do. Track your pipeline and close more deals faster.
Project Management
Turn strategy into a project plan, break down the work, and stay on top of progress.
Document Management
Create order out of chaos. Store the files flying around your office ecosystem in a central place.
HR/Employee Management
Manage and engage your entire workforce from pre-hire to retire in one seamless system.
Contact Management
Store all your business contacts in one place and keep track of your communications.
Field Service
Equip your remote workers with mobile apps and capture field data from anywhere.