How CRM Empowers Sales Teams
Since implementing a Customer Relationship Management platform, hundreds of thousands of organizations have experienced increased sales revenue. How? By providing a way to track an end-to-end customer experience, CRM enables medical device sellers and manufacturers with the necessary tools to maintain consistent revenue growth.
A Medical Device CRM must meet the standards that a modern CRM solution such as Sugar provides. These standards have shifted the focus of CRM use to the individual as the true end user. The entire sales organization benefits from increased data quality, enhanced sales productivity, and more predictable revenue pipelines
What is Sugar?
Customer relationship management software has been used by organizations of all types and sizes for more than 20 years. However, few have managed to tap into the true potential of CRM. At its simplest, Sugar is a CRM platform that allows organizations to manage business relationships and the data and information associated with them. With Sugar, you can store customer and prospect contact information, accounts, leads and sales opportunities in one central location, ideally in the cloud so the information is accessible in a secure location and in real time.
Sugar has multiple deployment options, meaning you have alternatives when it comes to CRM deployment for your organization. You can have SugarCRM host and mange your application in the cloud or you can create a public cloud through a hosting service. With the increasing need for privacy, Sugar's hosting flexibility allows you to put your CRM behind a firewall, ensuring the safety of your vulnerable information. As your business expands, you can change your deployment to meet your business requirements, your geographic presence, and your budget. Since Sugar always gives you control over your data, you'll never be forced to keep your data in a single cloud location.
And with Sugar's Mobile Application, you can keep in touch with your customers from any location, make calls and view your log activity within the app.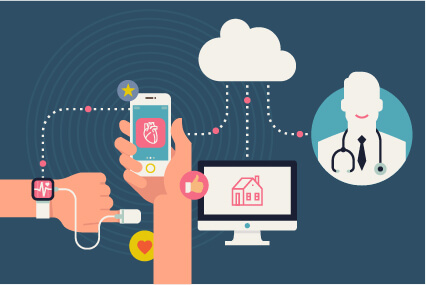 Why Sugar for Medical Device Manufacturers and Sellers
Medical device sales is a complex industry, with complex laws and regulations, which results in keeping track of many contacts and relationships (surgeons, physicians, administrative, multiple branches, etc.). The robustness and flexibility of Sugar allows our clients to efficiently manage all of their complex relationships, and manage those relationships from any device.
Sugar is commonly known as the most flexible CRM platform on the market, with comprehensive tracking, rapid deployment, easy customization and advanced reporting. Management and tracking modules can be customized to report on inventory levels, calls and activity by sales reps, entertainment expenses, lead tracking, opportunity management and quote creation modules to name a few. Sugar streamlines the entire medical device sales process, enables sales reps to spend more time with customers, reduces administrative time and improves accountability. You'll be able to immediately meet the needs of fast growing sales organizations by redefining the data flow of your sales process.
Modern CRM Means an Integrated CRM
When you integrate software, you're bringing software and people together. You see fewer errors, greater productivity, faster access to data, streamlined operations and happy people. FayeBSG software integrations bring together the power of a customer relationship management platform with Accounting, ERP, Cloud Storage, Marketing Automation, and a variety of other types of software.
In addition to creating some of the most popular Sugar integrations in the industry, FayeBSG also provides software consulting, project management, training, custom reporting, data migration and installation. If you have business software already in place and you'd like to integrate them with a CRM,we can help with that.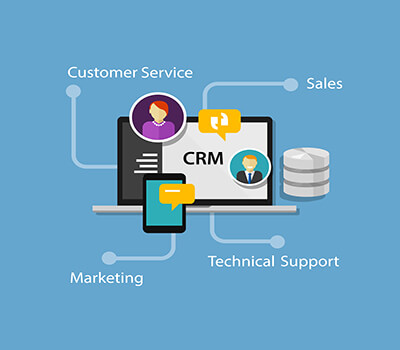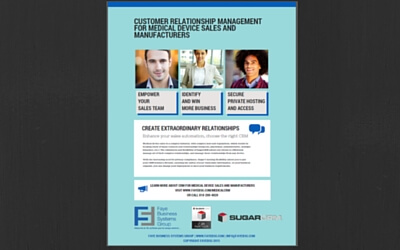 Shareable Collateral
Share The CRM Benefits for Medical Device Sellers and Manufactures with your team.