SugarCRM Keeps Wealth Management Firms in the Black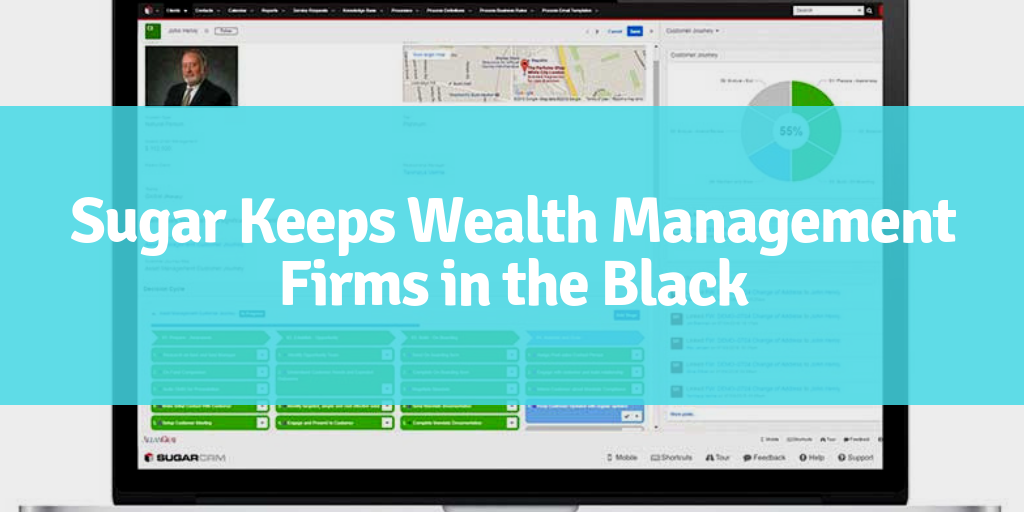 Not too long ago, financial services professionals built relationships by reviewing clients' portfolios via a meeting at the office, or by regular phone calls. A lunch meeting, or a round of golf supplemented formal interactions. The client got to know the person handling their money, and trust was established by building a solid business relationship.
We're certainly not telling anyone to skip lunch or play less golf. But, the financial service landscape has gone digital and banks and financial advisors need to adjust. Nowadays, you'd never, rely on a mailed letter to a client to tell them something important. Everyone knows that, but what you what you might not know is that email and phone calls are also going the way of the mailed letter in this industry.
Instead, clients want to reach their financial advisor via social media, text messages or even collaboration tools like Slack. So what can financial institutions do to embrace the digital age? And, is there really a modern-day equivalent to meeting in person to deliver the personalized engagement and proactive-based planning that clients want – the moment they want it?
The answer lies in wealth managers choosing the right CRM to help them gather everything they need to know about their clients so they can offer a more personalized experience. SugarCRM gives firms the ability to create highly customized experiences for both users and customers. It makes it easier to track clients' long-term goals while still logging important day-to-day details while presenting accurate information at just the right time to build trust.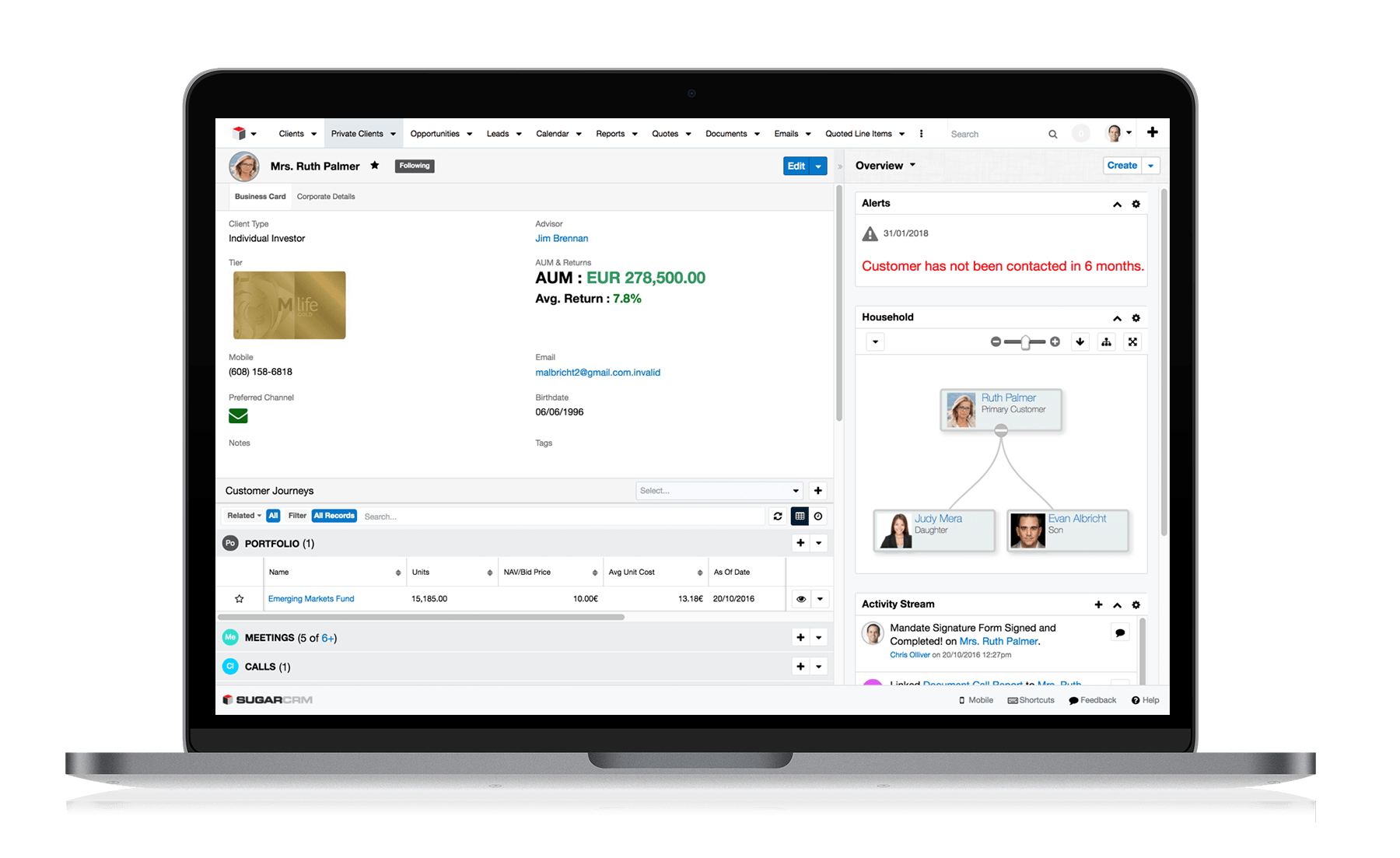 SugarCRM empowers wealth management firms to grow their assets under management by developing trusted relationships with their customers and providing them personalized customer service. Powered by a Sugar's 360 (holistic) view of the customer, all CRM users (not just advisors) can better understand their customers, their financial needs and goals, and their households. This helps them build trust, deliver a personalized customer service and provide their customers with the right advice at the right time.
Add SugarCRM Hint to Work smarter, Not harder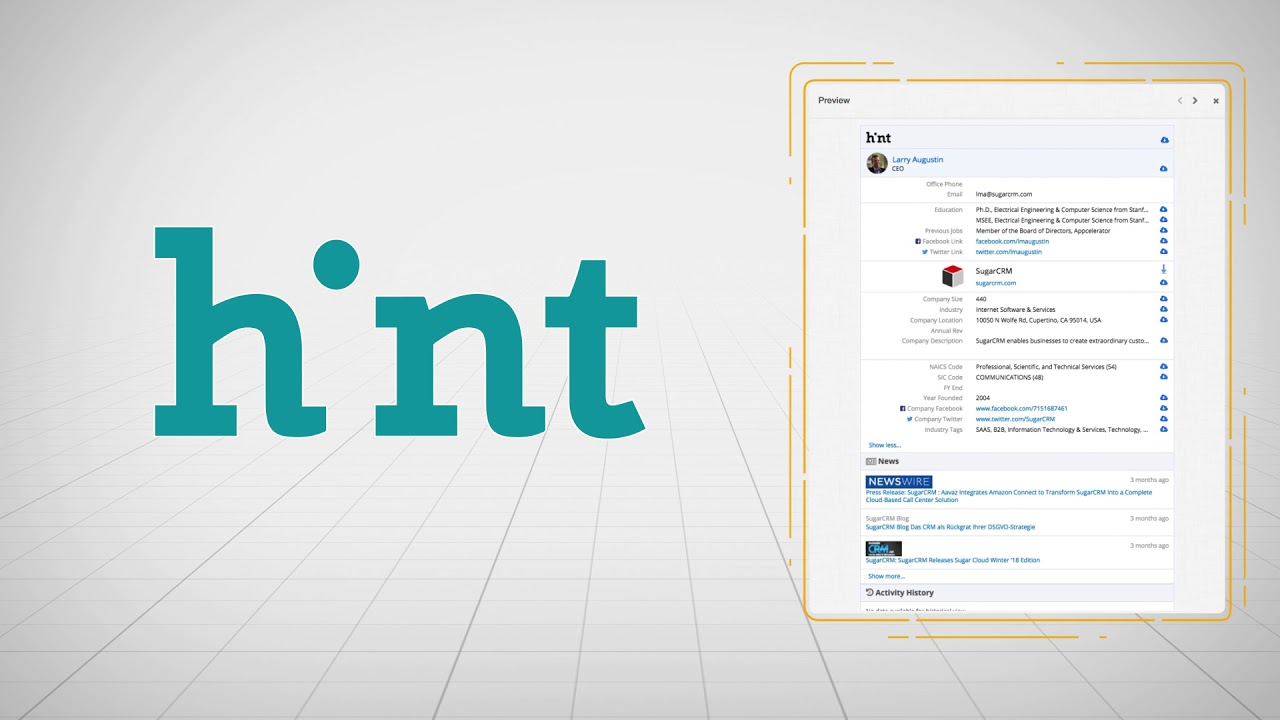 Sugar is adept at capturing data to generate insights quickly so every user can better know every customer. Smart advisors use the data within Sugar and to anticipate and predict customers' needs more effectively. This is the value of SugarCRM's add-on product, Sugar Hint. It helps advisors gather a wealth of relationship intelligence about individuals from just a name and email address. It eliminates the need for lots of manual research and data entry and gathers customer intelligence from a broad range of social data sources so users can quickly and efficiently learn more about their prospects to establish a productive relationship.
As a financial advisor, your client relationships are everything. Your job has a lot to do with making their financial lives easier and, in this competitive field, you need every advantage you can get. If you'd like to learn more about SugarCRM contact FayeBSG today.
Featured
The Sage Fixed Assets module allows Sage 100 users to manage fixed assets effectively from acquisition...

Read More

Rankings season is upon us with March Madness right around the corner. It's been another year...

Read More

SugarCRM Inc., the company that helps global organizations build better business relationships, has named Faye Business...

Read More