Five Tips for Choosing the Right SugarCRM Partner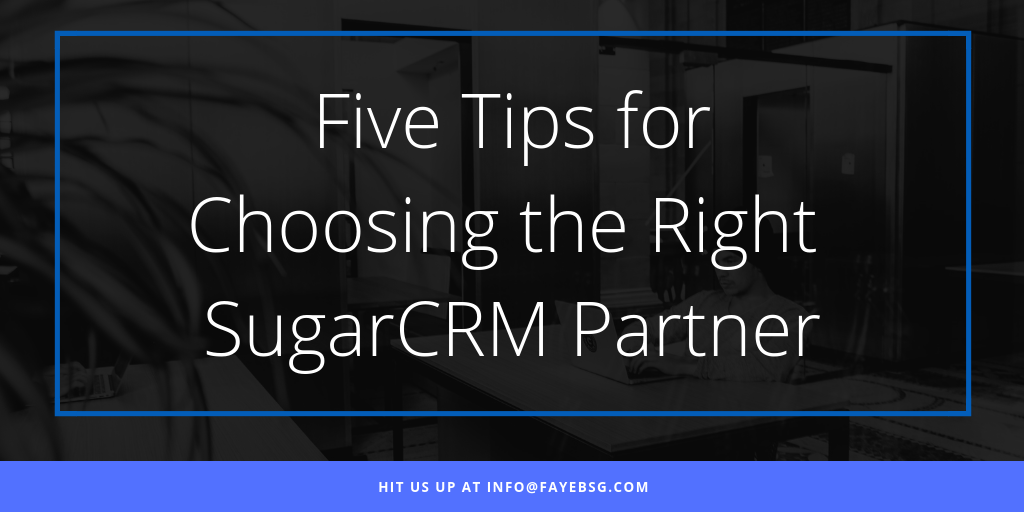 For all the tremendous benefits of a modern CRM system, it's not a plug and play purchase. In fact, buying a CRM without a strategic plan on how you will deploy and introduce the system to your employees is one of the biggest causes of failure in the industry.
Sure, you can go out and hire a fulltime SugarCRM administrator to lead the project, which is certainly better than pushing this onto a combination of the IT and sales departments. However, a better approach for many organizations is to partner with a consulting company that has extensive expertise in CRM software. The right partner can help you with everything from implementation, to data migration, to training users, to building custom add-ons for your business.
When you get deep into a CRM project, you realize choosing SugarCRM is actually the easy part. Choosing the right partner for your Sugar implementation is more complex. Here are some factors to consider:
SugarCRM expertise
Many consulting companies claim Sugar expertise. Luckily for customers, SugarCRM makes them prove it. Through the company's partner program, companies prove their expertise via certification requirements. SugarCRM's Elite reselling partners have attained the highest level of competency, recognition and customer satisfaction. They are typically SugarCRM's largest and most experienced solution consultants with expertise in building customer-oriented solutions, meeting the highest certification requirements of the partner community, and delivering outstanding customer service.
Experience in your industry
Just as important as experience with CRM, has your partner worked with other companies in your industry? If you are in manufacturing, make sure your partner can demonstrate CRM success with other manufacturers. The same goes for retail, financial services and so on. Specific industry experience leads to a faster implementation from start to finish. Your partner should also be a resource for integrating your new CRM with your other software and suggest relevant process improvements and enhancements.
A comprehensive menu of services
You don't want to spend months on the implementation phase for Sugar and have it go live, just to be "ghosted" by your partner. The right partner does not see an end date to the relationship. They are there with you month after month, and year after year for consulting, project management techniques, ongoing training for new batches of employees and customizations. The best Sugar partners are active participants in the daily success of the CRM.
A Thirst for Knowledge
You may love technology, and if you are reading this blog post…you probably do. But, you have also got a business to run, which a full-time job. The right partner should keep you plugged into the latest in CRM, the latest in software, and the latest in technology in general. SugarCRM is an innovative company that is constantly improving its offerings. Your partner should have an insider's expertise on what's coming and whether it can help your business. Additionally, your Sugar partner should be able to integrate your existing software with your CRM. Integrated software means you are bringing all your data into your CRM and providing cross-team visibility, which has endless benefits. Finally, got a question about anything from artificial intelligence to GDPR? If you don't think about calling your partner first, they may not be right for you.
Communication
As with any relationship, open communication is the key to success. Prompt responsiveness and transparency are important characteristics of a good implementation process. Communicating on a frequent, regular basis builds trust, maintains transparency, and fosters an overall healthy relationship both now and going forward.
The right consultant ensures that SugarCRM customers take full advantage of the innovation and value in Sugar.
Featured
Every buyer faces this question: Who installs the software? While some companies do have the resources...

Read More

The Sage Fixed Assets module allows Sage 100 users to manage fixed assets effectively from acquisition...

Read More

Rankings season is upon us with March Madness right around the corner. It's been another year...

Read More