The Top 4 Reasons Why Salespeople Don't Use CRM
The Top 4 Reasons Why Salespeople Don't Use CRM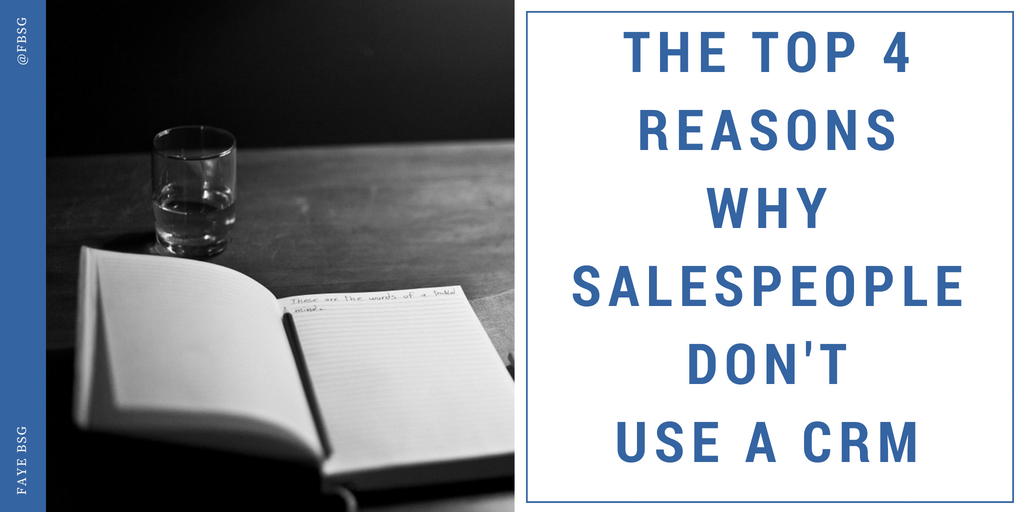 For the most part, the executive and management team can see the immediate benefits of implementing a new, cloud-based CRM system. Sales data can be stored securely in a central location while enabling the ability to monitor processes, sales performance, deal progression, and more.
But, what about the sales team? How do they feel about your CRM system–and, why aren't they using it? Well, quite often, salespeople may look at a CRM system as just another tool for their bosses to keep track of their work. In some instances, the CRM has gotten a bad rap as having the "big brother" effect.
In addition, sales reps may think that adding data to the system takes away from their time from selling time to customers. There are many varied reasons why sales reps don't immediately take to a CRM system. We will explore them here.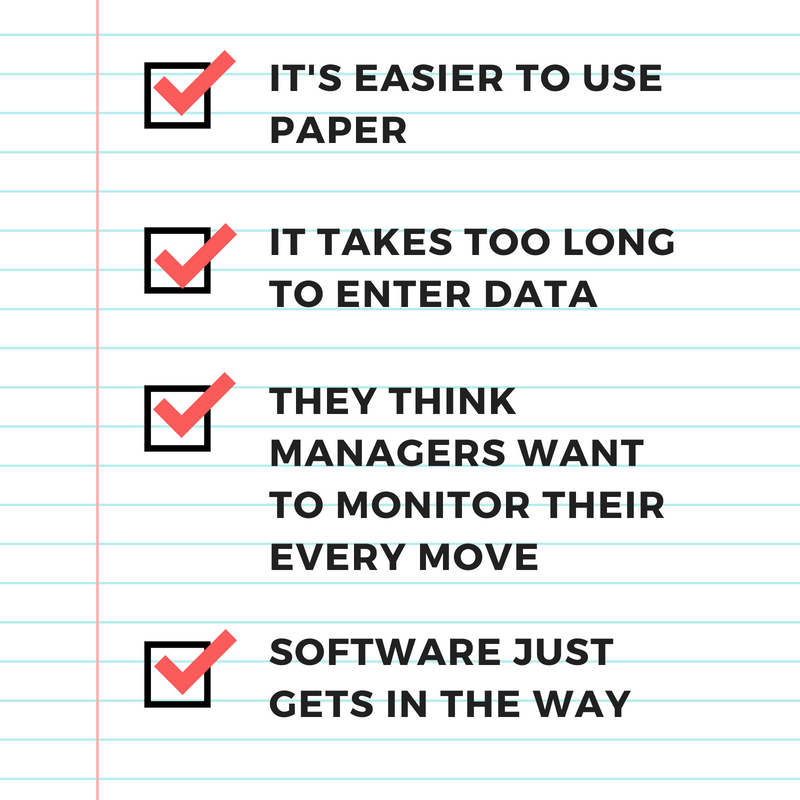 1. It's easier to use paper
For the most part, using paper is quite dated but some salespeople just love their spreadsheets and pens. They might think it's easier to stick to the same system they've used for years. If they're making their number, why bother to change anything? Why not just stick to the same manual processes and printed email lists? It's so simple.
Just take your pencil or pen and tick off the calls you have made, then take notes. Still, it's easy to see how time-consuming and costly this process can be. How much more time can be saved through a CRM system, which then leads to optimized selling time?
With multiple clients, there are just too many things to keep in your head–it's too easy to forget or make a mistake. For instance, if you promised to send something to a customer, but didn't write it down, how do you remember? What happens when you forget, and the customer loses trust?
Plus, sales has to do with a lot of following up. How can you remind yourself to follow up with over 20 people to manage? Write things on paper all you want, but your brain can't compare to advanced software and high-speed computers. In today's consumer-driven market, it takes more than a phone call to win over a customer.
And, yet, you must manage how much time you spend chasing one prospect. There are now more ways to communicate that phone calls and meetings. You now have emails, videos, SMS texts, instant messages, and social media. Trying writing notes on all of that. Instead, a CRM system can store and track every interaction, in a chronological fashion for easy management and tracking.
2. It takes too long to enter data
Let's face it, most salespeople worth their salt want to spend time closing deals–that is the most glamorous part of the job. They want to be smiling and dialing, meeting with clients, and achieving their sales quotas so that they can make the big bucks. Who wouldn't want all that?
So, when it comes to the less-glamorous aspects of sales–such as administrative tasks–many salespeople are less than enthused. As a result, they might not use a CRM system because they think it just takes too much time to enter data.
With sales, you've got to be fast. You need to know how to strike when the iron is hot. You've got to be on your feet, always thinking of the next steps towards making that sale happen. Your job is to bring in revenue, and that requires speed.
So, the maintenance of customer records just doesn't seem to fit into the world of sales. Salespeople like selling and making calls. But, if they think of it in reverse, they can use the CRM system for real-time information on their contacts so that they no longer have to spend time scribbling or searching for the last piece of paper with customer information.
When they realize they can access updated customer data, any time and from anywhere, they start to realize that entering data doesn't sound so bad after all.
3. They think managers want to monitor their every move
Salespeople can be quite friendly and proactive with customers, but secretive about their tactics. The methods they use to win over customers affects their paychecks and their bottom line–it also affects their employability. If everyone knew of their specific tactics–especially their employer–would they be as valuable to the company? This is how some salespeople think?
And, since a CRM system is used to track activities such as sales performance, emails sent, records, and tasks–salespeople also worry any evidence stored can be used against them if they are behind in meeting their quotas. In this way, the CRM system can be seen as a threat and they might not always double check to ensure data integrity.
They may also think of a CRM system as a threat to their job security. And, salespeople hate having to track how many phone calls they made or emails they wrote–that part of the job isn't much fun.
If a CRM system is used to police every single action, then you can be sure your sales reps will only use it begrudgingly. Instead, if you set realistic sales goals and create a collaborative environment, then it can ease the pressure around using the CRM system.
4. Software just gets in the way
Some salespeople are motivated by the materialistic, and that's fine if it helps them reach their numbers, and, working in a CRM system just doesn't appear to bring in the big bucks. Filling out records don't have the same effect as a fancy lunch where a client signs a lucrative, multi-year deal. Sales reps might argue that they weren't hired to work on administrative tasks, but to bring in the whales.
At first glance, perhaps sales reps can't see the practical value of a CRM system. Yet, the time-saving benefits, along with accurate lead nurturing and lead generation means that salespeople get to spend less time preparing for a new sale and more time with customers. In the end, sales will rise along with those big commission checks.
In conclusion
Even if salespeople may be the first to shoot down your CRM system, they will eventually realize they have the most to gain. By automating admin tasks and securely storing information online, everyone is in the loop and the customer can get the relevant service they want.
Featured
Rankings season is upon us with March Madness right around the corner. It's been another year...

Read More

SugarCRM Inc., the company that helps global organizations build better business relationships, has named Faye Business...

Read More

Forrester defines the customer journey as the series of interactions between a customer and a company...

Read More