Customer Journey Plugin 4.7.0 Released
With the Customer Journey Plugin users have the ability to visualize a process or series of tasks for all aspects of the business including lead management, opportunity tracking, account planning and customer care. There are a number of pre-built templates available that can be copied, modified and extended to meet the needs of your organization. This ability to visualize exactly where you are in a journey or process is greatly appreciated by staff and users of the CRM and contributes greatly to adoption.
SugarCRM recently announced that version 4.7 of the Customer Journey Plug-in by Addoptify is now available!
This latest release includes important support features for the Sugar Spring '18 and Sugar 8 Releases.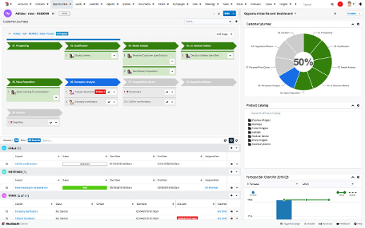 Customer Journey Plug-in 4.7 also addresses bugs identified in prior releases. More information on the new features and enhancements as well as the fixed bugs can be found in the Customer Journey Plug-in 4.7 Release Notes.
More information on the Customer Journey Plug-in 4.7, including the user guide, admin guide, installation guide, and the supported platforms can be found on the Installable Connectors  in the Sugar Community.
Featured
The Sage Fixed Assets module allows Sage 100 users to manage fixed assets effectively from acquisition...

Read More

Rankings season is upon us with March Madness right around the corner. It's been another year...

Read More

SugarCRM Inc., the company that helps global organizations build better business relationships, has named Faye Business...

Read More