Integrating SugarCRM and Sage 100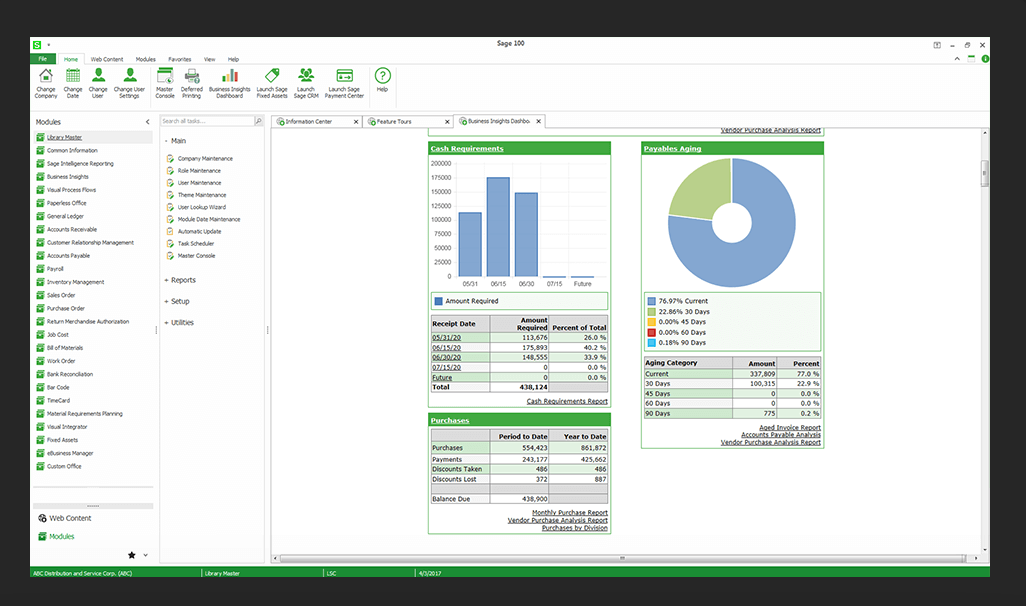 We live in a world of big data, AI, and the Internet of Things (IOT). There are important insights and decisions that can be made with the ability to filter and use that data in alignment with your business goals. Manual processes just won't cut it, especially in a consumer-driven market.
Customers have an attention span that averages around eight seconds. They are consistently being bombarded with offers and information. When they are ready to discuss your products and services, they want relevant information and quick, personable service.
One way to get that done is by integrating your CRM and ERP platforms, such as integrating SugarCRM with Sage 100. The business environment has become much more complex compared to the days of dialing from a disorganized Rolodex. If your customer data isn't handled efficiently, it can quickly become a major point of contention–not just for your business, but also for your customers.
One of your company's most valuable assets are happy and loyal customers. Instead of using a separate CRM and ERP system, you should integrate them.
Complimentary activities
With your CRM system, you can seamlessly execute actions such as prospecting, recording data, marketing automation, reporting, sales tracking and forecasting, pipeline management, and monitoring campaigns. When you integrate an ERP system, you can then have instant access and the ability to handle back-end processes such as purchase histories, billing, shipping, and financial data.
Imagine how much more streamlined your business processes can be. When a customer wants to place an order, you can easily check inventory, place the order, and ship from one portal. And, you don't have to worry about managing records in order to keep two systems synchronized. With integration, the data is automatically synchronized since it is a shared database. As a result, any updates will be available–throughout–in an instant.
View the customer from 360 degrees
There isn't a better way to view the customer than from all sides of their buying journey. You can take a look at their history from sales and support to finance, buying habits, order history, and more. Think of the many ways this type of information can be used to create hyper-personalized service and campaigns for targeted clients.
Before you start a marketing campaign or get on a call with a client, you already know what they have bought, if the product or service is still in stock, and how much they might be inclined to spend in the future based on their past spending history.
Become more mobile
With SugarCRM, you have the option to host in the cloud so that you can access your customer data from anywhere and on any device. Picture being at an important client meeting and having up-to-date pricing and product information along with orders and inventory.
Everyone is now on the same page. You don't have to call accounting for assistance. Sales can now be closed much more quickly. In addition, managers can track activity in real time. So, informed decisions can be made while on the go.
Increase efficiency of customer service
The modern customer wants it all. With their mobile devices and mobile apps, they are used to instant gratification. With the tap of a button, they can order anything they want. So, you have to have as much information as possible in your hands in order to service them much more efficiently.
When they ask a question and need help recalling a past order, you don't have to put them on hold while you perform "research." You don't have to ask to call them back while you gather all the necessary information–potentially losing their attention.
It's always difficult having to call a client or prospect back because you never know if they will be available the next time you call. You also never know if your competition has gotten a hold of them in the meantime.
Reduce manual entry
Working with separate systems means double entries and double the potential for errors. What do you do if one system has a different purchase history from another? What will the customer think when they realize you don't have their orders organized? In the age of technology, consumers can easily perform their due diligence on your products and services.
This is why it is critical to provide as much product and service detail as you can. Moreover, information such be accurate so that you build trust with your customers. You want to ensure you offer the types of products that are relevant to their purchase history, interests, budget, spend–and most importantly, are in stock.
A worst-case scenario is finally closing a deal only to realize the item is not currently in stock. Not to mention, you can easily provide tracking details so that the customer can see the status of their order. Whether you are B2B or B2C, shipment and delivery information can be crucial to clients who depend on the products. If there is a delay it can affect their business operations too.
And, there isn't any question that many B2B customers want to have the ability to do business based on their schedules, and 24/7. They want the process to be as seamless as possible. When you sync customers between Sugar and Sage 100, you get a comprehensive, 360-degree view to assist the customer in multiple ways.
Modern functionality
With a SugarCRM and Sage 100 integration, you have all data located in sub-modules within the Sugar Accounts module. This means you can conveniently find what you need. Plus, you can tailor the display as list views, detail views, reports, dashboards, and edit views. Similar to any other Sugar view, you can also drill-down for a more detailed overview.
These two platforms now communicate with each other to prevent redundant data entry and duplication. You'll now have synchronized quotes, invoices, sales histories, inventory items, and more. You can also send both sales orders and quotes from Sugar to Sage.
Then, you can sync supporting data such as price codes, warehouses, salespeople, and terms codes. You truly receive the best of both worlds.
Final thought
Choosing the right integration can make a difference between having access to quality data or not. A Sugar and Sage 100 integration ensures you get the best of both worlds, and, can immediately service multiple customer needs.
Featured
Rankings season is upon us with March Madness right around the corner. It's been another year...

Read More

SugarCRM Inc., the company that helps global organizations build better business relationships, has named Faye Business...

Read More

Forrester defines the customer journey as the series of interactions between a customer and a company...

Read More