Integrating SugarCRM and Jira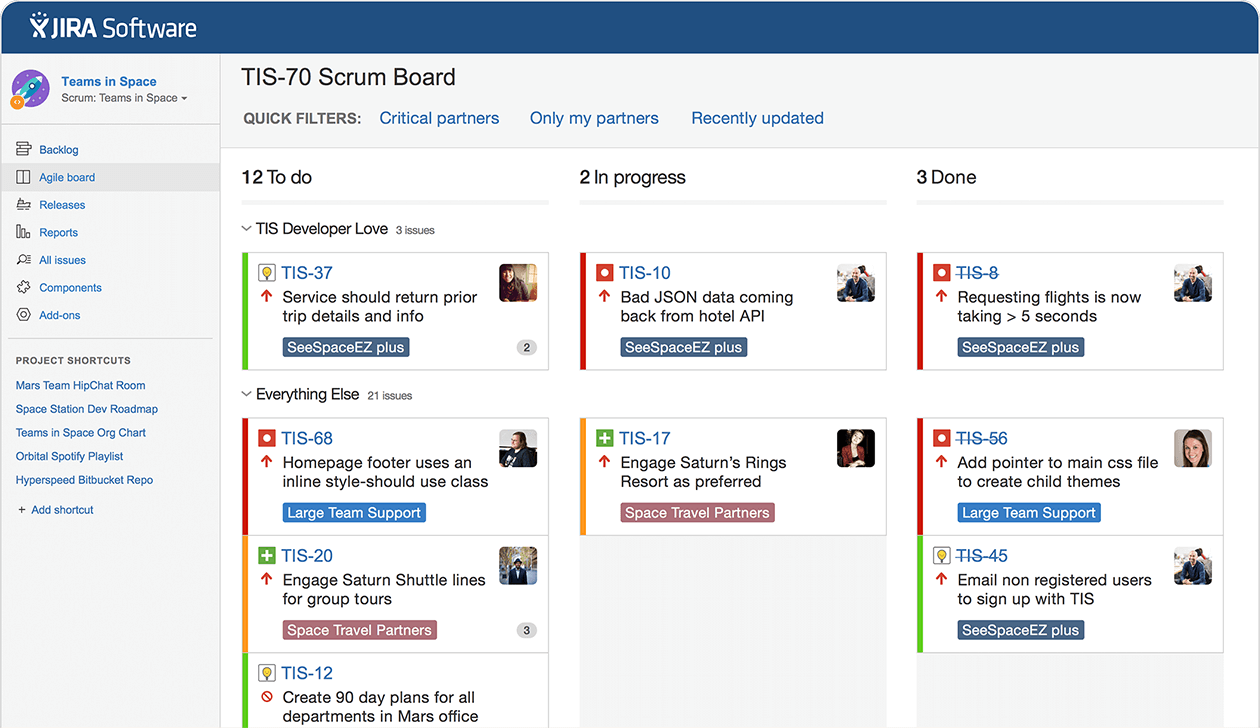 Regardless of the size of your business, you are probably always working on numerous projects–both large and small. As more people get involved in a project, it becomes increasingly difficult to manage and accomplish business objectives.
Nonetheless, it is crucial to organize all aspects of every project. You can do so with JIRA, a project tracker designed to help teams plan, build, and launch new products. In fact, JIRA is used in 115 countries, by 19,000 companies.
Integrating Sugar with JIRA means that you can stay on top of important projects within the Sugar dashboard. You can also view issues by priority, type, and account. Plus, this integration comes with a Critical Issues Dashboard to send out alerts when any project has the potential to either go over budget or delay the deadline.
Collaborate and stay on task
Project management trackers, such as JIRA, are critical for completion of projects of any size. With JIRA and Sugar, you can easily collaborate on significant projects by sharing status updates, documents, and timelines–all within the Sugar dashboard.
You can also delegate tasks as needed to employees with the right knowledge, skills, and background. When you assign roles, you ensure that people are involved who have the necessary skills to get things completed on time, under budget, and in alignment with business goals. Plus, you add more working parts to the project to help it arrive at a quick completion.
Then, there is the fact that projects must be completed on time. JIRA ensure that alerts are sent out whenever there is the danger of missing a deadline. You'll be notified of upcoming deadlines so that you can ensure your time is managed in accordance. Not to mention, JIRA helps to keep track of projects so that you don't have to. You will know when something is completed, by whom, and what still needs to get done.
Employees can also add updates regarding what they are working on and share their updates immediately with a team member, and project managers. You no longer need to attend update meetings or send multiple emails.
Another reason why JIRA is so useful is it offers a snapshot of current projects. So, if you need to add a new member, they can go through the updates to get a more in-depth view of the project and where they can contribute.
And, with JIRA's tracking management tools, you can share status updates with your clients to ensure everyone is on the same page and working towards the same goals. Since you need to be connected with both clients and vendors, project management platforms are crucial.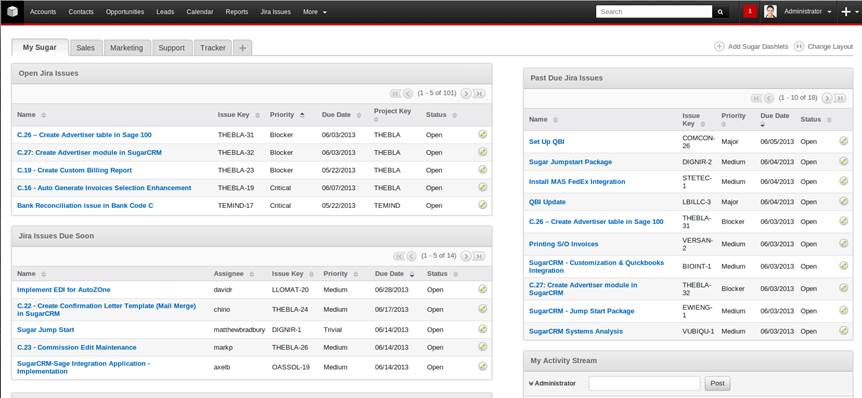 Remove customer data silos
It's always necessary to keep clients up to date on any deliverables and projects. Yet, issues come up when data is kept in separate systems–even personal email inboxes or spreadsheets. With your CRM system, you have sales history, customer information, order requests, interaction history, and more.
When you add JIRA, you get information on budgets, timelines, planning, work progress, and invoices. You can even invoice customers right from the application. There is no need to complicate communication any further with disparate systems. You might cause confusion, or, send misinformation.
It also takes longer to find the right answers, customers become impatient, and the relationship starts to go downhill. But, when you integrate SugarCRM with JIRA, you get rid of the silos to ensure 360-degree visibility.
Track issues right from the SugarCRM Ecosystem
After integration, you don't have to worry about getting used to a completely different software application. You can simply use your standard Sugar dashboards and tools to ensure you're on top of important project developments.
You'll notice a "Time Billing Module' that captures and calculates hourly rates and billable time. It also produces reports and invoices. It also links development and project management to the sales team so that they understand every aspect of the project.
Now, your sales reps can meet with any customer and update them of the project status in real time. That is the essence and advantage of integration.
There is a dashlet for viewing issues past Due Date and one for issues due today / this week. You can also create SugarCRM dashlets from JIRA issue data. As a result, you streamline communication between departments.
Improve productivity
The SugarCRM and JIRA integration will improve productivity since all team members can easily see which task is ready for completion. This means less downtime between tasks. In a lean business, multiple breaks can add up. When you see the next task, you help to eliminate downtime. Plus, since SugarCRM works with mobile devices, all team members can stay connected whether they are at the office or working remotely.
Sales reps can utilize the data while visiting client sites. They no longer have to wait until they get back to the office for a project update. You don't have to spend too much time on planning. All you have to worry about is project execution.
Final thought
When you have a 360-degree overview, you can make better-informed business decisions. You also spend less time searching for customer data, which means you can spend more time on mission-critical and customer-focused activities. When you integrate SugarCRM with JIRA, you have clear visibility into sales and project management.

Image source
Featured
Every buyer faces this question: Who installs the software? While some companies do have the resources...

Read More

The Sage Fixed Assets module allows Sage 100 users to manage fixed assets effectively from acquisition...

Read More

Rankings season is upon us with March Madness right around the corner. It's been another year...

Read More