Integrating SugarCRM and Authorize.Net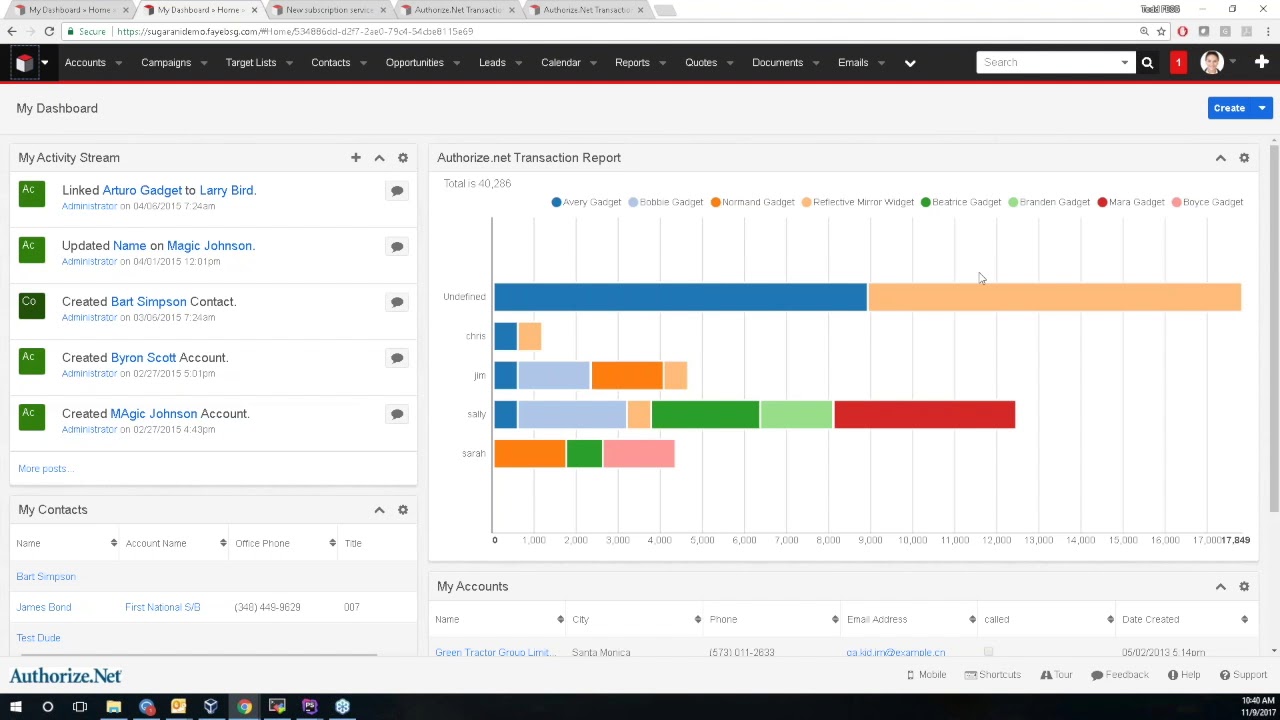 In order to grow your customer base, your company needs to accept both credit card and debit card payments and be able to do so with your CRM platform. You can do just that by integrating Authorize.Net with SugarCRM. Authorize.Net is a payment gateway that links the client's payment account with your website account.
You can charge your customers directly when they purchase something online. Since Authorize.Net is one of the leading credit card processors in the world, you can be assured that your payments will go through quickly and securely. With this integration, you can also securely enter credit card billing information from within the SugarCRM Ecosystem.
Then, authorized users can authorize credit cards for particular amounts. Now, you'll have your client's billing information right at your fingertips. Keep reading to learn more.
Why choose Authorize.Net?
If you've ever purchased something online, then you have probably used a payment gateway. This is the software that processes credit card and other forms of digital payments. The right payment gateway software will help your business to successfully collect payments.
Customers are known to bounce off of sites when they see transactions that may appear untrustworthy. When you can collect payments online, from a trusted gateway, you help to positively impact your daily transactions while building trust with your customers.
Yes, there are thousands of payment gateways to choose from. There is an interest in creating payment gateways because there is a fee collected after every transaction. Yet, one that is a standout is Authorize.Net. It has the best API in terms of talking to the gateway.
Because Authorize.Net is so widely used, many developers already have it integrated into their shopping carts–which, makes it even more convenient to use. Plus, many other payment gateways use the Authorize.Net API since it is so well designed.
It is easy to integrate and offers a highly-regarded fraud protection system. If you're worried about PCI compliance, Authorize.Net ensures that all card information is kept safe and secure. When you sign up for a merchant account with Authorize.net, the account is created just for you and only you.
For smaller businesses, this means you might have the option to negotiate a better rate. For larger businesses, lower rates can mean significant savings if you sell millions of dollars of products and services every year. Plus, with a dedicated merchant account, you know that they will follow all industry-standard credit card processing rules.
The objective is to instill trust in your customers. Then, there is the fact that sensitive data can be stored on Authorize.Net's PCI-compliant servers. And, it can tokenize credit card payments meaning the card numbers need only be entered once. This makes it much more convenient for returning customers.
This means that your customers' account information is substituted for one-time tokens that only Authorize.Net can read. After each use, the tokens expire, and they are useless to cybercriminals.
SugarCRM is the fastest-growing CRM system on the market today. This comes with effort and an established reputation. As a result, it is important to partner with a PCI-compliant gateway such as Authorize.Net. In addition, Authorize. net accepts these payment options:
Signature Debit Cards
Apple Pay
PayPal
Visa Checkout
Visa®, MasterCard®, American Express®, Discover®, Diner's Club, and JCB
If you already use Sugar, then the Authorize.Net integration makes sense so that your salespeople no longer have to worry about updating two systems with critical payment data. You won't have to worry about processing and receiving payments either. All transactions are automatically added to and updated within Sugar.
Important advantages
With SugarCRM and Authorize.Net, you can settle, manage, and authorize credit card payments and electronic check transactions whether they be in retail stores, online, through call center telephone order, mail order, or on mobile devices.
Authorize.Net will manage all transaction routings similar to a credit card swipe machine. In addition, Authorize. Net is available 24/7 for simple and compliant credit card transactions. Plus, you can add charge and authorize buttons to custom locations.
Plus, you can keep up with recurring bills such as subscriptions. Managing subscriptions for multiple customers can get difficult without the right software. You don't want to overcharge or undercharge.
With Authorize.Net, you manage bill dates automatically using the right payment type and customer contact information from SugarCRM. Without a payment gateway, collecting payments can quickly become a full-time job.
Collect and settle payments much faster
When you use a third-party gateway, you often have to wait several days for the transaction to be completed. In contrast, a payment gateway such as Authorize.Net can equate to faster settlements.
This can certainly be a boon for smaller businesses when cash flow is paramount to keeping the business running. And, if refunds are ever requested, your customers don't have to wait long for those to process either.
Final thought
The benefits mentioned above are real and palpable. You want your customers to enjoy the fastest, most convenient, and safest shopping experience available. Authorize.Net is PCI compliant, so your customers can rest assured that their payment data is safe.
Authorize.Net is the right option for integrating with your SugarCRM. You'll find the integration to be seamless. Furthermore, your customers are happy that you can quickly and securely handle transactions from a variety of outlets.
Featured
Rankings season is upon us with March Madness right around the corner. It's been another year...

Read More

SugarCRM Inc., the company that helps global organizations build better business relationships, has named Faye Business...

Read More

Forrester defines the customer journey as the series of interactions between a customer and a company...

Read More