How Do I Get My Users to Use CRM?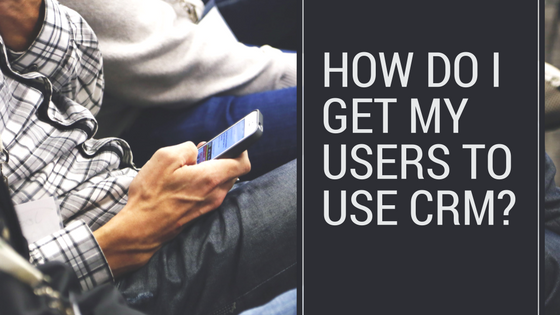 Regardless of your industry, customers are necessary to drive sales. As a result, providing a high level of customer satisfaction should be the priority of every business. Yet, this is about more than simply thanking your customers; you must also understand them. Yet, you're not a mind reader. And, it wouldn't make sense to hire a staff of psychics either.
The good news is you can improve your sales numbers, and your understanding of your customers simply by installing the right CRM system. This way, you can keep accurate records on contact information, purchase histories, demographics, segments, average spend, conversations, and more. Collecting and organizing actionable data is never an easy task–especially if you try to do this manually.
With a high-quality CRM system, you don't have to. Instead, you can record every interaction, which then becomes easily and quickly accessible. You can then build upon those conversations to smoothly guide your prospects through the sales funnel.
And, this is a much better system over Excel spreadsheets or poring through email chains. So, you understand the many benefits of implementing a CRM system. The next challenge is to get your users to utilize the system. Continue reading to learn more.
Pick the right CRM solution
As you might already know, not every CRM system is created equally. Some have more features than others. Some are designed for the Enterprise level, while others are designed for startups and SMBs. Then, there are others that are customizable, and others tailored for specific industries.
With this in mind, it is critical to pick the right system for your users. To get your users to use a CRM, they must feel as if it was built just for them and their needs. Think of your users as your clients. What types of features would they want and need? To better understand their priorities, start by talking to them first before making your final decision. This is a good way to make their input feel valued and appreciated. It will also give you the types of details you need such as:
Your users' current workflow
Phone and email volume
Their marketing needs
Outreach processes
Template needs
Customer lifecycle
Since you involved your users in the decision process, they will be more excited to use your CRM system.
Discuss the benefits
Just as you would with your customers, it is imperative to discuss the relevant benefits to get your users to use CRM. They need to know what's in it for them. Does your new CRM system offer customizable email templates which take the work out of creating new marketing campaigns? Does it offer marketing automation? Is it mobile-forward, allowing access from anywhere, at any time?
These types of benefits are essential for modern businesses and should be highlighted. It's not enough to say, "we think this is a great system, now use it." Your users want to know how it will help them get their work done more quickly and become more productive.
They also want to know how it benefits their client relationships. So, think like your users. If they are sales reps, making their quotas and increasing their paychecks might be a paramount priority. How does the new CRM system help them reach their quotas more quickly? Paint a picture of success for your users. Focus on the positives and how using the new CRM system will positively benefit their bottom line.
Create your strategy
Over 60% of all CRM implementations fail because there is no strategy or plan in place. Companies think they can just install a new solution and any potential kinks or issues will work themselves out. As the saying goes, "a failure to plan is a plan to fail." Similar to any other new business acquisition and venture, you need a strategy. You don't want half-hearted adoption, you want full and enthusiastic CRM adoption.
It's no fun to sift through incomplete CRM records or to switch between saving emails and then entering data into your CRM system. So, before you dive in, think about how you will soon get everyone on the same page. Other things to consider include:
Outreach standards
Data entry processes
User schedules
Marketing campaign creation
Then, think about how you will ensure continued success and adoption. How do you plan to keep current and new users engaged?
Provide comprehensive training
Don't allow your users to flop when it comes to using your CRM. At the same time, you don't want to firehose your users with information–that would only feel overwhelming and detract from your strategy of success. Instead, start with the basics and teach them what they need to know first.
If your users are in sales, show them how to enter customer data, create marketing campaigns, how to access data, and how to use the mobile aspect of the CRM system. It's also critical to note that training should not be considered a one-and-done type of deal.
This needs to be an ongoing effort of training for new users, refreshers for current users, and updates on how to use new features. Again, to get your users to use CRM, they must ease their way into it.
Training should be a step-by-step process. Let them play around and get comfortable with the system. After one training session, give your users time to digest the information and practice what they've learned. At a later date, you can then teach them about the system's other bells and whistles.
What's important is what they need to know immediately, then, work your training sessions from there. Another way to encourage adoption is to have current users explain how they use the CRM system to new users.
Designate a few superusers
As your users start to engage more with your CRM system, questions and issues may still come up. If one or two users have a question, it wouldn't make sense to hold an unscheduled training session.
Instead, what you can do is identify superusers to help out with the everyday questions that may pop up. These superusers can share their tactics, and also become evangelists. Plus, they're more relatable to your users.
Final thought
When you understand your customers, you can give them what they want. The same is true of your users. So, implement your CRM system, improve customer satisfaction, and get your users engaged in the process. Don't forget to check out these other important CRM adoption tips.
Featured
Rankings season is upon us with March Madness right around the corner. It's been another year...

Read More

SugarCRM Inc., the company that helps global organizations build better business relationships, has named Faye Business...

Read More

Forrester defines the customer journey as the series of interactions between a customer and a company...

Read More