Collabspot for Sugar – How to Drive More Sales by Maximizing Time in Front of Customers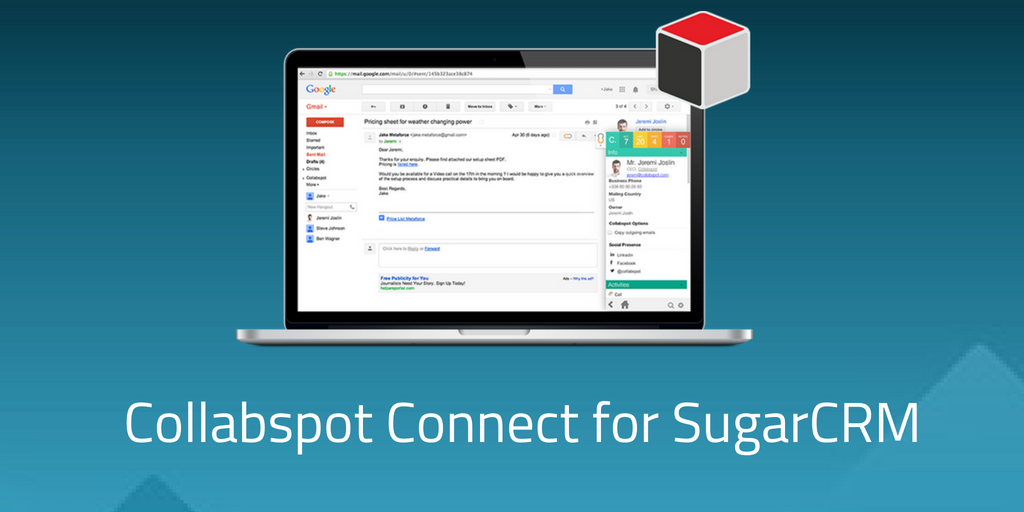 Collabspot Connect is a tool that completely integrates Sugar with Gmail, allowing for complete CRM adoption and a 360-degree view of your team's customer and prospect communication. In addition, Collabspot Connect allows your sales reps to access Sugar from where they work the most, their inbox.
Today, some of the top concerns for sales leaders include:
New Customer Acquisition
Sales Talent Acquisition and Retention
Existing Account Retention and Growth
Sales Operations, Planning, and Go to Market
Skill Development and Sales Enablement
This is just to name a few!
In our recent webinar with Collabspot, Brandon Sellers, the VP of Business Development at Collabspot, took us through these sales concerns and showed how their Gmail integration tool for Sugar helps your sales team maximize their time in front of customers, and therefore, drive sales in the right direction. We discussed and addressed a handful of core challenges that we see standing in front of sales reps when it comes to maximizing their time in front of customers. Towards the end, Brandon also provides a demo of the Collabspot connecter for Sugar. Hope you enjoy it!
Featured
The Sage Fixed Assets module allows Sage 100 users to manage fixed assets effectively from acquisition...

Read More

Rankings season is upon us with March Madness right around the corner. It's been another year...

Read More

SugarCRM Inc., the company that helps global organizations build better business relationships, has named Faye Business...

Read More