Zoho Alternatives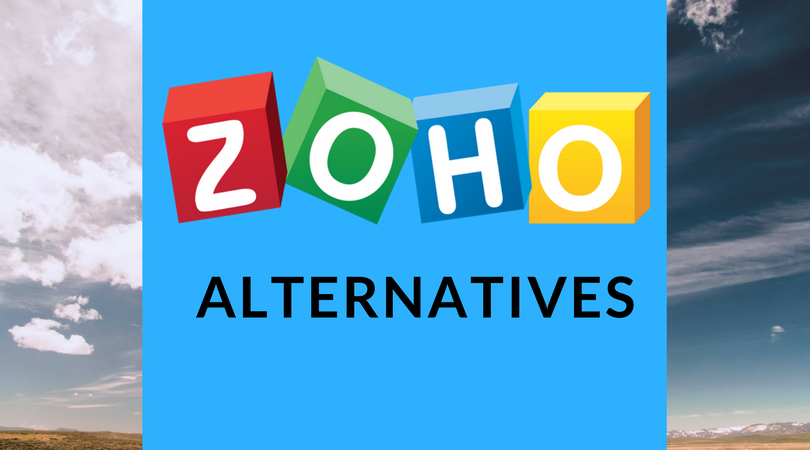 While Zoho is a popular CRM system, it is not suited for every single company out there. For some, it might be too strategic, for other businesses, it might be too general. In this article, we will look at several Zoho alternatives you might consider when switching out your CRM system. If you're ready to get out of a bad CRM relationship, keep reading to learn more.
HubSpot
HubSpot's special capabilities reside in sales automation. Furthermore, this solution is known for offering an easier implementation relative to Zoho. HubSpot facilitates the creation of strong relationships with your customers through easily-accessible cloud-based features. Moreover, you can manage your marketing operations and content from a single interface. Note several Hubspot perks below:
Unlimited storage of data such as documents, recorded calls, notes, and emails
You can record the data of up to 1,000,000 companies while Zoho allows storage for only 25,000 contacts
Email integration for auto-generation of contacts and email marketing pieces
Emails can be scheduled and tracked when opened for more effective follow-up
Automatic logging of sales activities eliminates the need for manual data entry
Store and access information from both Google Drive and Dropbox
Easy to implement and highly customizable
While some may find the best thing about HubSpot is its pricing, they hook you into their platform with a CRM offering and then sell you their primary focus, marketing automation software. Zoho has a complicated pricing policy well, but they let the first 10 users try it out for free. On the other hand, Hubspot is a free service. In fact, a business can have anywhere from 15 to 500 users and all of them can access the solution without any fees – that is until you want to actually do what you need to do with the platform.
Salesforce
Salesforce comes with a vast repository of features may not be as user-friendly as Zoho. To optimize usage and adoption rates, end users will need initial and consistent training—this can be a drain on time. Yet, Salesforce is one of the top CRM solutions on the market. You can also customize Salesforce easily and use only the features required by your business.
Advantages of Salesforce:
Dedicated Salesforce AppExchange with 2,900 of compatible applications for businesses
Scale easily as you grow by adding advanced features aligned with your current business needs
Integrate with social media for greater insight into customer behavior and improved lead generation
Convert leads seamlessly using a unified platform for integration, automation, and reporting
Customize as you want with objects, custom fields, native apps, and third-party applications
Salesforce has four pricing plans–the basic SalesforceIQ Starter costs $25 per user per month, while the Lightning Unlimited pack costs $300 per year per user (billed annually). You will need to maintain early contracts and, also, pay termination fees. In contrast, Zoho starts at around $12 per user per month (billed annually), while the Enterprise plan costs $35 per user per month (billed annually). Additionally, Salesforce costs begin to add up and fast.  Check out our Salesforce pricing guide here.
SugarCRM
SugarCRM is one of the leading open-source CRM solutions offering comprehensive features available today. It has a high user satisfaction level and connects to a wide variety of additional modules and plugins that you can integrate as needed.
Furthermore, SugarCRM offers robust work automation tools and processes to handle crucial sales operations and increase both productivity and revenue. It offers either a cloud-based or hosted option for true choice. There are even helpful keyboard shortcuts that make access and input quite convenient.
Benefits of SugarCRM:
Easily track every single step in your sales process
Sugar Exchange provides access to a ginormous number of third-party tools and applications
Mass emailing and marketing tools are offered to enhance greater conversion rates
Social media integration for realized online impact
Supports specific third-party Google Applications
Intelligent reporting with future prediction analytics features for trends and customer demands
Manage customer interactions over a wide range of channels including email, phone, social media, and client meetings
There are also three straightforward and budget-friendly pricing plans (per user per month):
Sugar Professional at $40
Sugar Enterprise for $65
Sugar Ultimate comes at $150
All plans are annual subscriptions.
Insightly
Insightly can be a suitable choice if you need more control over your marketing and sales processes. You will find useful features such as advanced reporting, mass emailing, and custom fields which come for free–unlike other solutions. One minor drawback is that it can only be integrated with the Quickbooks and Xero accounting platforms.
Benefits of Insightly:
Readily integrates with widely-used apps such as Google Drive, Gmail, Microsoft Outlook, Dropbox
Effective for project management with horizontal pipeline sales stages
Easily track campaign ROI with customizable and advanced reporting features
Build custom reports quickly through drag-and-drop functions
Here are the pricing plans (per user/per month)-
Basic–free for up to two users
Plus–$29
Professional–$49
Enterprise–$99
All plans are billed annually.
Pipeliner CRM
Pipeliner is one of the most user-friendly CRM solutions on the market that helps you do more with fewer clicks. The visual-based dashboard also lets you track and gain important insights into your business without requiring overly-complicated statistics.
This cloud-based solution gives mobile capabilities on both iOS and Android empowering your employees with CRM capabilities on the go. You can also integrate Pipeliner CRM with over 50 common applications for marketing automation, contact management, data migration, accounting, and more.
Pipeliner CRM features:
Great for freelancers with free usage rights for single users
You can track internal processes such as RFQ and RFPs throughout your company
Highly intuitive and responsive visual interface with an easy learning curve
High flexibility makes it possible to configure the solution so that it aligns business needs
Easily create high-quality reports with impactful visual elements
All system plans are charged per user and billed annually. The Personal Package is free while others cost:
$8 for the Personal Plus Package
$25 for the Starter Plan
$55 for the Business Plan
Enterprise Plan prices depend on business requirements.
In conclusion
All our Zoho alternatives above were curated to give you a wide range of choices with budget-friendly pricing structures. It's ano-brainerr that implementing a CRM system will enhance multiple business functions, especially sales and customer service. So, which solution will you choose?
Featured
The Sage Fixed Assets module allows Sage 100 users to manage fixed assets effectively from acquisition...

Read More

Rankings season is upon us with March Madness right around the corner. It's been another year...

Read More

SugarCRM Inc., the company that helps global organizations build better business relationships, has named Faye Business...

Read More