What is the Purpose of CRM Software?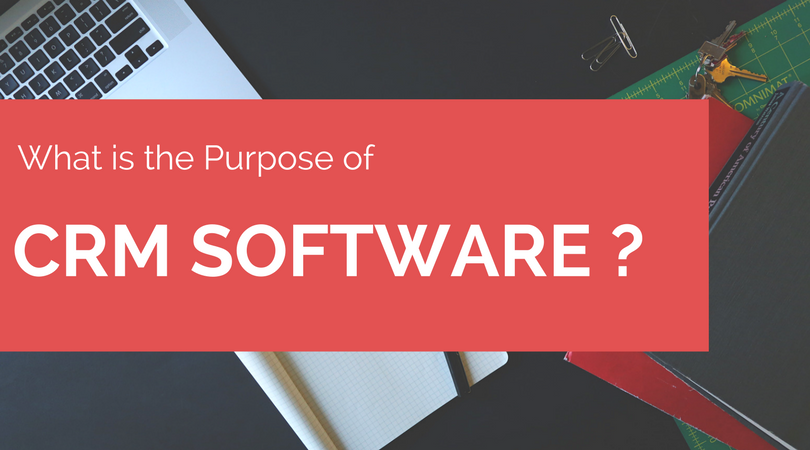 In many ways, the art of business is the art of managing customer relationships. The customer relationship is not an instance, but instead, a process. Customers must be identified, nurtured, converted, and then maintained. Indeed, many marketers like to talk about "conversions," but make sure you don't miss the forest for the trees.
The importance of customer relationships has given rise to customer relationship management software. CRM platforms can be used to help manage relationships with customers in a variety of ways. At the most basic level, a basic CRM solution will act as a one-stop-shop for customer information—such as contact information–and related data.
Being a catch-all container of information was the purpose for many early CRM platforms. However, since then, CRM platforms have advanced. Much like a meditating monk in a monastery, top-notch CRM developers have been asking some deep questions:
• What is the true purpose of a CRM?
• How can a CRM system empower sales and account teams?
• What does customer relations mean?
Let's dive into these questions and more to understand what CRM platforms truly are, and how they can help you.
What is the true purpose of a CRM?
Surely, a customer relationship management platform has a higher purpose than gathering customer data and tracking simple things such as basic sales stats, right? While CRM platforms were born from humble origins, they have been evolving rapidly over the past few years, offering more features and capacities to manage relationships.
Arguably, a CRM platform's highest aim is to produce the highest sales. Yet, if a sales team wants to accomplish that, they must truly and consistently offer value to their customers. Any business purchasing a CRM platform will focus on the value it adds directly to the sales team. In addition, a great CRM platform empowers staff, allowing them to add value to customers.
Let's look at a few specific ways that CRM platforms empower your sales and account staff.
1. Marketing and sales automation
One important area CRM tools are delving into is marketing automation. In fact, the sales process is filled with a bevy of tedious tasks. These tasks can bog down your sales reps, which in turn keeps them from working with their customers. On the other hand, a good CRM platform can offload much of the burden.
Emails can be automatically sent, appointments can be scheduled, calendars updated, and data entered into databases all with minimal input from a human hand. Once sales staff no longer have to focus on these tedious and time-consuming tasks, they'll have more time to actually offer value to customers.
Quite simply, the more time you have, the more time you can spend helping customers. Troubleshooting serious issues, informing customers of new features and products, or simply reaching out to say hello or happy birthday, regardless of the reason, sales automation will allow you to focus on adding value.
2. Use data to get to know your customers
CRM tools can offer you a wealth of information regarding your customers. We're talking about more than just contact information and other basic details. How about geolocation, past sales, and current products? By knowing your customers, you can better pitch them and, also, add more value.
Great CRM tools can dig even deeper, tracking service requests and complaints as well. As a result, sales reps can keep an eye on their customers and respond to their needs. In the past, addressing customer complaints would take a lot of time away from prospecting. The right CRM system gives reps customer information at their fingertips. Histories can be located for quicker and easier solutions.
3. Focus on customers who will convert
The best sales rep on your team might not be the person who has the best sales pitch, but, may instead be the one who is best at qualifying potential customers. In fact, around 90 percent of the sale will be completed before you even reach out to a customer who's likely to convert. They have researched the product they want, they have already educated themselves, and they are close to buying. You just need to convert.
The savviest sales reps know how to find those likely-to-convert customers and to focus their efforts on them. The best CRM software provides key data, insights, and other bits of information to make the qualifying process easier. This allows you to be data-driven in your approach.
3. Great CRM platforms are increasingly self-driven
Artificial intelligence is emerging as an immensely disruptive technology. The most advanced CRMs are integrating AI directly into their platform. By doing so, you won't need to use your own brain for everything. AI can perform much of the thinking and analyzing for you.
AI will also enable more automation. Perhaps more importantly, AI will enable better automation. Moreover, AI itself can learn from mistakes and developments, and, can adjust instantaneously. Over the long run, this enables AI to improve its own efforts.
With marketing automation, your sales team can improve sales management processes such as:
• Segmentation
• Nurturing
• Scoring
• Campaign and email management
Essentially, you get to streamline the sales process with the right CRM platform. As a result, the sales cycle is shortened, and deals can be closed more quickly and efficiently.
Conclusion: great CRMs let you add value and enhance the user experience
A great CRM system will empower sales staff by cutting down on tedious tasks and providing key insights. This will allow you and your staff to focus on more creative and higher value areas of work, which in turn will allow you to add value. This will enable you to exceed customer expectations.
As a result, instead of having satisfied customers, you can secure delighted customers that will be more than happy to maintain their relationships with you. Ultimately, a great CRM platform will allow your staff to become enlightened gurus who can convert and delight your ever-increasing customer base. To learn more about CRM systems, check out this essential guide to CRM.
Featured
The Sage Fixed Assets module allows Sage 100 users to manage fixed assets effectively from acquisition...

Read More

Rankings season is upon us with March Madness right around the corner. It's been another year...

Read More

SugarCRM Inc., the company that helps global organizations build better business relationships, has named Faye Business...

Read More