Top 5 Uses of Mobile with CRM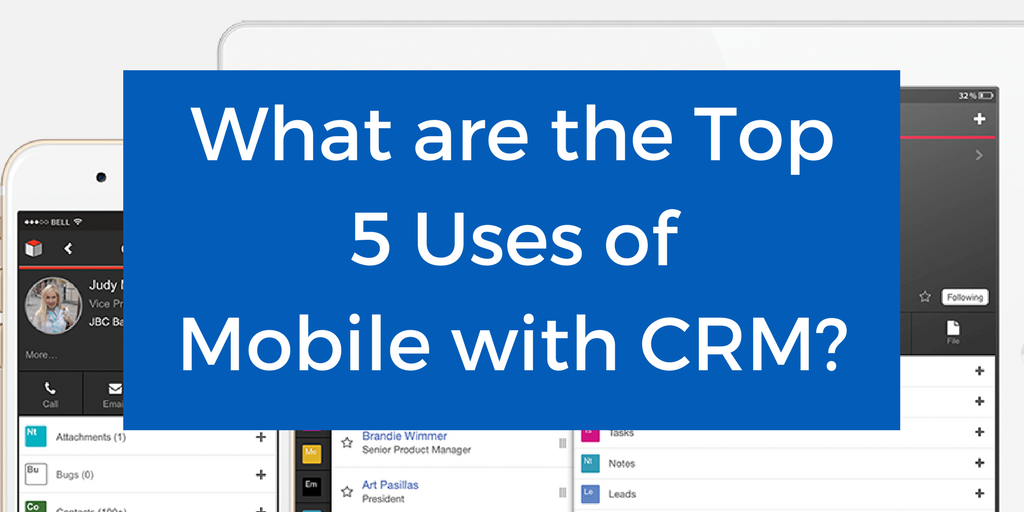 While CRM's have long been known to aid in productivity, they have been traditionally accessed from desktop PC's and laptops. Not anymore.
According to Skyward Techno, between 48% and 45% of organizations now use a smartphone or tablet to access their CRM. Of those users, 81% access their CRM platforms on multiple devices. And, mobile CRM is expected to increase in popularity by 500%.
Companies are increasingly moving to cloud-based and mobile forward CRM systems–the added benefits like the portability of cloud-based CRM's has made it a popular choice for many.
Plus, it's a great way to connect with customers too–since everyone already uses their smart devices for everything from shopping to booking movie tickets or flights. Companies can no longer avoid mobile with CRM, that is if they want to stay ahead of the competition. Companies are realizing the need to empower their CRMs with mobile capabilities–a reason many are moving over to a mobile CRM or are in the process of doing so.
The Top 5 Uses of Mobile With CRM
So, how do you benefit when it comes to work processes and customer experience with the use of mobile CRM?
Power your Sales Reps with Customer Data
Insightful, accurate and timely data–delivered just where and when it is needed.
Imagine this: In the past, when a sales rep left the office, they were unable to access any type of customer information. They could only rely on their memory and what he had noted down on his pad.
Access to smart devices has made it possible to access information anytime, with Internet connectivity being the only requirement. You can give the same power to your sales staff by using mobile CRM software.
Your sales reps can use the CRM app on their mobiles to access the whole customer journey including past purchases, spending habits, customer preferences and other information along with real-time inventory pricing.
Based on the data, the sales rep can modify their offerings and tailor their communication according to the individualized needs of the customer. They can make personalized product recommendations, which the customer is more likely to buy.
Improve Your Data Accuracy
Prior to mobile with CRM, your sales reps had to wait they got back to the office to enter any information arising out of a customer interaction. The gap between the meeting and the time of data entry left room for the omission of crucial details or errors due to the nature of human forgetfulness.
But, today, your sales personnel can just take out their mobile and enter all the information in a CRM app. The data is then automatically synced via the cloud with the central CRM database, and once again all parties have access to real-time data. A mobile CRM improves data accuracy by cutting down the number of steps between the reception of information and recording it.
Shorten the Sales Cycle
Every company wishes to have a short sales cycle where they can sell a product to a customer with as few interactions as possible. A short sales cycle reduces costs and ultimately, increases revenue.
You can effectively facilitate a short sales cycle with the help of mobile CRM. First, mobile CRM provides instant access to real-time customer data and inventory details. Your sales reps don't need to call anyone or check multiple spreadsheets to find information while talking to a customer. They can also recommend products and cite details using their mobile CRM data quickly.
You can also enter information into the CRM on the spot without moving an inch. There is no need to wait to return to the office to place an order; just do it on the mobile CRM, and you can then proceed to ship the product. All of these uses of mobile with CRM can help close sales with fewer interactions keeping the sales cycle short.
Increase Your Sales
One of the main functions of a CRM system is to increase sales. The same stands true for its mobile counterpart, which seems to surpass the traditional CRM in its effectiveness in increasing sales. Based on a TrackVia study, CRM systems can increase revenue by 41%.
A mobile CRM increases sales through various ways. You can make personalized product recommendations to your customers using the data in your CRM. When the product is more relevant, you achieve a higher probability of closing the sale.
The solution also reduces the manual work of your sales team like data entry, placing orders and making reports freeing up their time to pursue potential leads. You can also achieve a quicker delivery time as mobile CRM shortens your sales cycle. This raises the customer satisfaction making them more likely to buy from you again.
Increase Productivity of Your Employees
It's a no-brainer that a mobile CRM solution increases the productivity of your sales team as a whole. All employees in the team have access to real-time customer and company data even when they are out of their cubicles, helping you serve customers with better contextual data and making it easier to achieve the sales target.
To illustrate, you can use your CRM system to create customized email templates. As a result, you don't have to fumble around creating a new email each time you want to market to a prospect or customer. When you're out and about, just tap and send.
Your sales team can also use the CRM platform to improve collaboration–important information or updates can be directly sent to sales reps' mobile phones without any delay. Everyone can access and share information seamlessly in real-time using the mobile CRM.
Conclusion: retain and serve your customers better with a mobile CRM
There isn't any question that sales reps need a CRM system. What's more is they need a CRM system that offers mobile capabilities. Whether you have an in-office, contract, or hybrid workforce, they need instant access to company data on the go. Relationships and sales processes don't happen in a bubble. A sale can take place at any time, but that can only be made even more probably with a mobile CRM.
Sugar Mobile e
To further prove our point on the importance of a mobile CRM, check out our CRM mobile app we built for our SugarCRM Clients – Sugar Mobile e.

Featured
The Sage Fixed Assets module allows Sage 100 users to manage fixed assets effectively from acquisition...

Read More

Rankings season is upon us with March Madness right around the corner. It's been another year...

Read More

SugarCRM Inc., the company that helps global organizations build better business relationships, has named Faye Business...

Read More