Salesforce Alternatives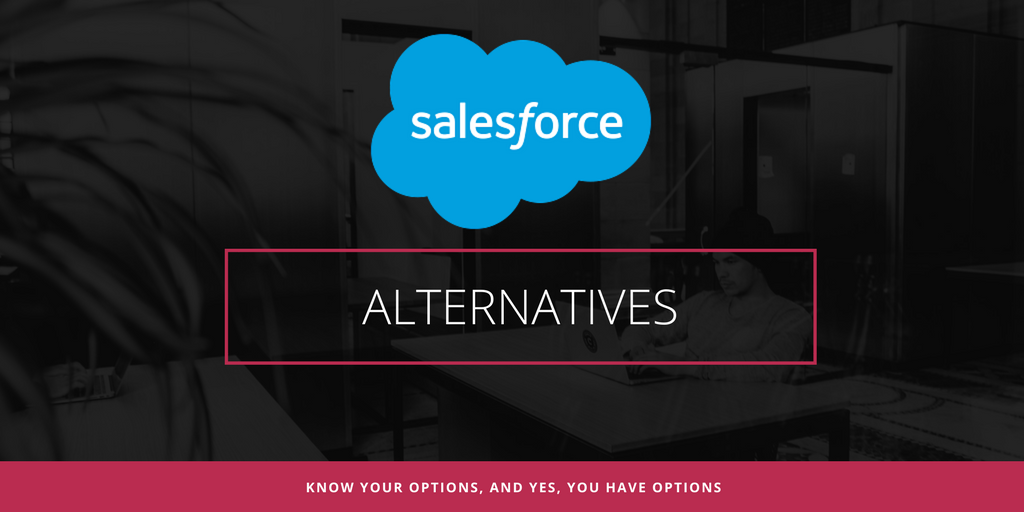 CRM software is becoming less and less impenetrable as companies aim to access the small business market. Increasingly high-performing services become available through cleverly–engineered software, but there is one universal constant in the CRM world–no product provides the perfect solution to every customer. The same is true of Salesforce—it just isn't for everyone.
Design decisions must be made by engineers, and business the world over have lamented these effects. And, Salesforce has pushed itself into an increasingly archaic position, relying on heavy paywalls to access content that should be made available for anyone who has purchased even the basic edition the software. If you find you're in a bad CRM relationship, it's time to get out of it. The good news is you do have options. Keep reading to learn more.
What are your alternatives
Zoho
Zoho is something of a giant in the CRM community, with thousands of return customers and generally high performing services. With a simple layout that offers enough depth for consumers to sufficiently store complicated information, it can be a decent alternative to the monster of Salesforce.
Still, the price tag does not do enough to differentiate itself; small business owners will be looking at a minimum $36/mo. price point. Larger customers will see that price tag increase exponentially; as your access to some of Zoho's, (admittedly variated), services increase, then the pricing structure goes up.
Yet, the services do make up for any price failings in this case. With some interesting performance monitoring tools, sophisticated notification and integration software, and a capable Inventory Management system, the tool distinguishes itself well within a highly-competitive field.
SugarCRM
With a clean, simple exterior, and a surprisingly robust list of capabilities, Sugar takes the cake. With a design aimed at an excellent user experience, Sugar has streamlined the ideal use-case of customer relationship management software. Leads are identified in clean, simple categories, with clear indications of who is connected to them.
The administrative console allows a straightforward, no-nonsense overview of employee interactions, with an intelligent organization schema designed to facilitate the ability to focus on everything at once. You can also find SugarCRM costs here.
Sugar also allows you to host your CRM on-premise, meaning you can manage security risks and does not charge for mobile access to its CRM (as Salesforce does.) They also have their product sourced in PHP, meaning that you can find a developer to integrate it very easily; Salesforce fails to do this, requiring you to integrate on their terms.
AmoCRM
With an interesting design choice optimized for clean, easy to understand cards, AmoCRM is an interesting view into how design can make improvements on software without introducing new functions.
The clean card system leaves little to be desired; you always know what you're looking at, and why you're looking at it. With a slightly lower cost than Salesforce and a lack of complications that can lead to adoption confusion, AmoCRM offers somewhat of a competitive edge.
Unfortunately, AmoCRM does not offer a robust list of tools. Large companies will find their resources lacking; where most CRM's will have a large list of purchasable features, AmoCRM is slightly bereft.
Furthermore, AmoCRM does not offer any comprehensive insights into either how or why your sales are either succeeding or failing, and data analytics is not built into the system, leaving you to make your own assumptions about why you're performing the way you are. There also is no inventory management system, so smaller business's beware.
Less Annoying CRM
With an extremely simple design, this CRM lives up to its name, keeping things in a simple boxed format older users will feel comfortable with. The organization is clear, with no need to be concerned with creating an informational hierarchy. Just deploy your information into the calendar, drop notes where you need them, and the CRM keeps you focused on your goals.
They lack a dedicated document library, however; meaning this system can't help you in a robust manner with any technical issues you may come across. Their customer support systems and integration also lack, with less-than-stellar fields for your media, emailing, and any other systems you might want to plug in.
Nonetheless, the price tag is the real selling point here. If you're a small business, with fewer than 50 company accounts, Less Annoying CRM manages to sell their software inexpensively. It's easy to understand why; you're essentially paying for an advanced spreadsheet. It truly depends on your business needs.
Freshsales
With built-in phone, e-mail, and a fairly hassle-free environment, Freshsales does an excellent job pushing an office aesthetic into a place of usefulness. With several useful features such as lead scoring and prospect organization, you can better serve your customers. In fact, Freshsales manages to push itself into the limelight for combining some of the more useful aspects of any expensive CRM solution into a smaller, easier-to-manage package.
With detailed insights, a careful manager can make connections with clients more profitable, and using an authentic form of contact management can transform low-performing marketing managers into team leads.
On the other hand, Freshsales fails in terms of multiple pipeline management. Organizations who look to manage multiple pipelines should be wary of purchasing the tool, as they only allow you the ability to adjust your filter settings rather than being able to create entire new pipelines. Sales organization is a large portion of the entire purpose of CRM, so be wary if you manage a heavy amount of traffic.
Final thought
The right CRM system should offer functionality proportionate to the value it presents, as smaller companies and large companies both will agree. Moreover, a tool is only as useful as its intended effect, so be sure to use your software in accordance with what your purposes are.
AmoCRM and Less Annoying both offer a light price-line and low barrier to entry (via either technological complexity or cost), so they make a nice addition to your professional suite of tools if you're only looking for minimal and basic functionality.
SugarCRM is a comprehensive and robust solution with multiple levels of customer relationship solutions, with complex software facilitating simple ideals in a no-nonsense layout. It's also relatively easy to use, while still retaining feature-rich functionality. A good solution to fit the CRM needs of small and Enterprise companies alike.
Zoho and Freshsales both market themselves towards larger clients, with Freshsales geared particularly towards mid-size clients, but the price tag may not contain the hidden value the two sales platforms offer. Be sure to look at their lists of services before making a long-term financial decision.
There you have it, a list of Salesforce alternatives. Which CRM system will you choose?
Featured
Having a business requires that you stay on top of your game – always. It also...

Read More

Every buyer faces this question: Who installs the software? While some companies do have the resources...

Read More

The Sage Fixed Assets module allows Sage 100 users to manage fixed assets effectively from acquisition...

Read More