Microsoft Dynamics Alternatives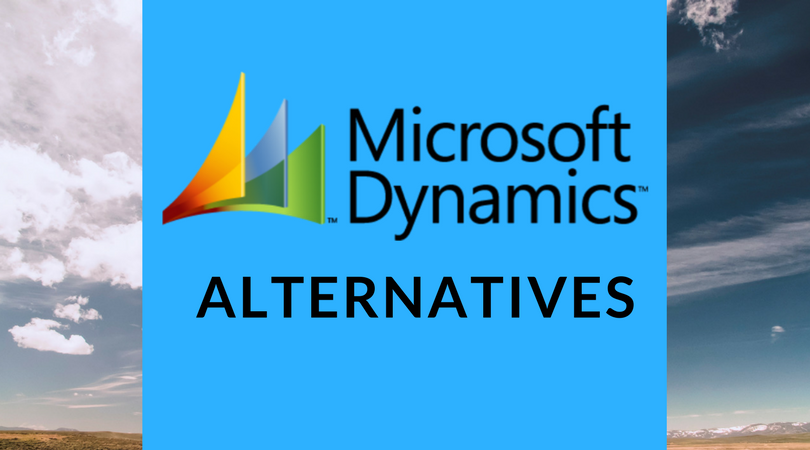 The CRM market has gone through the roof since more companies have been searching for systems that enable a better way to work with both customers and employees. Implementing a reliable, scalable, and innovative CRM system is one method organizations use to increase their competitiveness–not just on a local scale, but on a global scale as well.
As CRM systems continue to abound, it is important to remember that not all are created equal. Microsoft Dynamics is certainly a popular choice, but it's not designed for every business. Some companies require more customization and others need something more budget-friendly.
Choose wisely based on what will work and suit your company best. Don't settle on a brand just because it's well-known. A CRM system should help your company succeed. As a result, it's crucial to know your options.
It's a corporate juggernaut
The Dynamics interface works well with Microsoft Office having been customized to align with customer's needs. Yet, it has its drawbacks. Dynamics is cumbersome to use when incorporated with other programs—that are not Microsoft Office. Another challenge is it's not the most budget-friendly option. So, smaller companies may have a difficult time justifying the overall ROI.
You need the right CRM system to help you improve your processes when it comes to finding leads, following up with prospects, and guiding them through the sales funnel. A CRM system can help to improve customer retention and loyalty by offering a comprehensive view of your customer–including contact history and preferences–so that you know exactly when and how to reach out to them. Of course, features will vary–depending on the system, and so will cost.
As a result, picking a Microsoft Dynamics alternative should focus on the features that are most important for your business to have and whether the alternative fits your budget. Let's move on to some alternatives.
Maximizer CRM
Maximizer CRM does offer a range expected features. For instance, you can customize your email preferences and customer opt-in settings. Maximizer CRM saves your settings, and you can configure the email preferences for each of your customers.
The result is the ability to create a clean email list that produces better engagement rates. Maximizer CRM also offers the "Make a Call" feature that can integrate with both Skype and Lync–so, you can contact customers from anywhere. Other features include:
Unique integration and customization features to meet your business needs.
Strategic add-ons to further customize your CRM solution.
BPM Online CRM
Another Microsoft Dynamics alternative is BPM Online CRM which works well in terms of customer relationship management to ensure you have more efficient customer service processes. The system is also quite user-friendly with the option to streamline all your sales processes. Some other BPM Online CRM features worth noting include:
Enhanced workflow and business process management.
Software modification through open configuration. Users can customize their BPM Online CRM experience.
A Customer Success Management (CSM) department, which facilitates a more streamlined customer management process.
Workbooks CRM
This is a web-based CRM that offers user-friendly functionalities while catering to the business needs of both large and small businesses. We've included Workbooks CRM in our list since it helps to extend various capabilities of your current sales processes. If you prefer to try before you buy, Workbooks CRM also offers a free version. You can also enjoy:
Integration of QuickBooks, Sage and other accounting tools that enable efficient sales and accounting.
The software is not daunting for new users. It is user-friendly to encourage successful adoption rates.
Integration of Ad words and Google analytics to ensure more successful lead generation and marketing strategies.
Customizable add-ons.
NetSuite CRM
NetSuite CRM states that it is the only cloud-based solution that offers a 360-degree view of your customers. You'll get features such as integrated e-commerce add-ons, quoting, commissions forecasting, sales forecasting, marketing automation, and order management. The key with NetSuite CRM is that the core focus is not CRM, it's actually ERP. As a suite of product, CRM is just an add-on, rather than the focus. A few other notable features include:
360-degree view of the customer
The ability to manage global sales
Upsell management
Zoho CRM
Zoho is a cloud-based CRM designed for SMBs. You get to use tools such as:
Reporting
Sales and marketing automation
Customer analytics
Product configuration
You can also use Zoho's system to connect with your customers via live chat, social media, the phone, and email. Another well-reviewed feature is Zoho's gamification capabilities where companies can gamify all sales processes. Then, sales reps who achieve their targets get rewarded.
In addition, Zoho comes with a mobile edition that works with both iPhone and Android devices. While Zoho does integrate with Google accounts, it does not offer Quickbooks integration.
SugarCRM
SugarCRM was recently the winner of PCMag's Business Choice Awards with the highest rating for customer satisfaction among their platforms reviewed. It's hard to believe it was only founded in 2004. The company is known for double-digit and triple-digit growth and CRM is all they do.
And, because it has an open-source foundation, you can find a highly passionate and supportive community of both SugarCRM users and developers. You get five editions including the:
Professional Edition increased integration options, workflow, and Sugar Mobile
Enterprise Edition builds on the Professional edition and includes Mobile Plus, additional storage, and faster SLAs
Unlimited Edition, the most advanced tier that comes with more storage, 24/7 customer support, and a Sugar Connector to the Lotus Domino Server
The dashboards and splash pages can be customized based on the types of displays you prefer. There are even Sugar keyboard shortcuts you can use for quicker access. Plus, the visuals make facilitation of the sales funnel quite straightforward and user-friendly.
Not to mention, you get access to the top SugarCRM updates such as improved product catalog dashlets.
You even get dynamic search results through the search function. If you need more information on any company, you can use the new relationship analytics tool, Hint, which automatically searches the web inside your CRM for personal and company information, delivering a wealth of information so customer-facing employees will quickly learn more about their contacts.
Final thought
Sifting through these Microsoft Dynamics Alternatives should take some thought and consideration regarding your business needs. All are well-received by their end users. Your final choice should be a solution that fits your company perfectly.
Featured
The Sage Fixed Assets module allows Sage 100 users to manage fixed assets effectively from acquisition...

Read More

Rankings season is upon us with March Madness right around the corner. It's been another year...

Read More

SugarCRM Inc., the company that helps global organizations build better business relationships, has named Faye Business...

Read More