When is SugarCRM Not a Good Fit for My Company?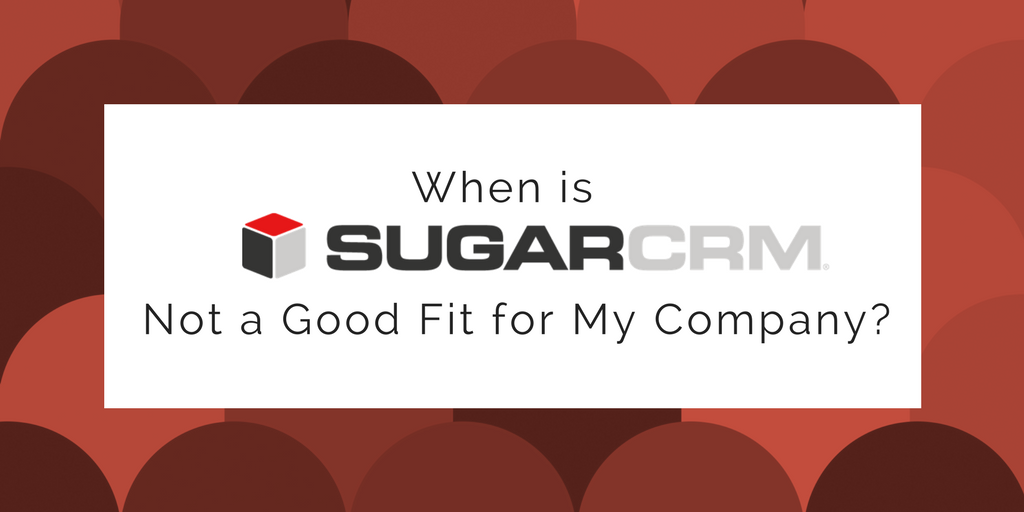 When is SugarCRM Not a Good Fit for My Company?
Without thorough research, it's difficult to say whether SugarCRM would be the right management solution for your business. There are many factors to consider including the size of your organization, business needs, pain points, and more. Every CRM system is unique, and SugarCRM is no exception.
While it is the fastest growing CRM on the market today, it may or may not be a good fit for your business. To start, you must take the time to evaluate your needs. Then, make a list of CRM systems that closely align with your needs. To address your company's current pain points, you must have the right tools and use them efficiently. Here are some helpful suggestions to determine if SugarCRM is the right fit.
Do you have enough business to invest in a CRM?
If you only have a handful of clients and aren't interested in scaling your business, then you might be able to get by with email and a spreadsheet. While SugarCRM has an edition for every budget, you might not need the entire system if you only have five or six clients.
On the other hand, if you have over 40 customers and growing–that would be a different scenario altogether. It just doesn't make sense to use a spreadsheet to manage over 50 clients. You would need a solution that offers user-friendly dashboards and solutions for entering customer data.
Moreover, you need a system that can automate your marketing plan to gain your next 100 or 1,000 clients. If your business plans to scale, or wants to scale quickly, then it makes sense to invest in SugarCRM. The good news is the upfront costs are quite cost-effective and easy to implement.
Will it help your business?
A CRM solution is only beneficial if it will help to improve your business processes. If you have documented your current choke points and pain points, and don't think SugarCRM can help, then this system isn't for you.
On the other hand, if you want to increase your sales, then you might want to take a closer look at SugarCRM. What are some of your current objectives? Would you like to create a quick quoting process? Do you need a better system for email templates?
Would you like a visual overview of your current sales process? Do you need a better way to keep track of customer purchase histories and communications? Do you want the ability to manage your sales pipeline from anywhere?
Now, what about customer service? If you feel you have reached the pinnacle of excellence for customer service, then you don't need SugarCRM. Yet, if you are looking for ways to improve, then SugarCRM might be a consideration.
Customers are used to their mobile apps and the instant gratification it provides. They are also used to getting answers quickly via your website, social media, and email. With the right CRM system, you can easily keep track of customer interactions regardless of the channel.
And, no matter who handles the customer inquiry, they can provide personalized customer service. A customer doesn't want to remind your company about the last interaction. It is your job to have all communications recorded and easily accessible. As a result, every customer feels special and your company is seen as more thoughtful and more trustworthy. Plus, with keyboard shortcuts, you can respond to your clients fast.
Are your marketing tactics successful?
How is your current marketing strategy working out for you? Have you become a master at conversions? If you have no issues in the marketing arena, then you certainly don't need SugarCRM. But, if you are challenged with balancing personalized marketing with automated marketing, then, you probably need SugarCRM integrated with a Marketing Automation solution.
You can't reach enough customers writing separate emails manually. The best way to optimize your marketing efforts is by utilizing marketing automation and email templates. As a result, you can quickly segment your audience based on demographics and stage in the sales funnel.
For example, you wouldn't send a new lead in-depth product information until they are closer the buying stage. Not to mention, marketing automation is necessary to increase conversions. According to a study by Act-On, triggered emails average 400% higher open rates and 150% higher clickthrough rates than "business as usual" email messages. If you can convert even half of that number, how would that impact your bottom line?
Modern customers want personalized outreach. You can't use the same content for every web channel. With SugarCRM, you only have to create your materials once and personalize them for every customer journey.
Can you access customer data on the go?
Have you ever received a customer call and ask if you can call them back when you get to the office? Then, you arrive at the office and can never get a hold of them? It's probably because your competition was able to reach out to them first.
With modern technology, customers balk when you say you need to get to your computer to access information. They have their smartphones and understand that many businesses have gone mobile. So, why hasn't yours? If you don't need to go mobile, then SugarCRM is not the right fit for your company.
SugarCRM facilitates the ability to access your CRM data from any location. So, if you need that type of access, then you might reconsider SugarCRM. With a mobile-first strategy, you no longer have to worry about leaving customers hanging. You can answer their questions from wherever you are.
And, you can respond any time of day. This doesn't mean you have to be on call 24/7, but you could be for important clients. And, that is always a good thing for your sales pipeline.
In conclusion
Before choosing the right CRM system for your company, take the time to determine your pain points, objectives, and business goals. Then, figure out if you need a system to streamline and enhance your current marketing, sales, customer service, and mobile activities. It's easier to a pick a solution when you know where you've been and now know where you want to go.
Featured
Rankings season is upon us with March Madness right around the corner. It's been another year...

Read More

SugarCRM Inc., the company that helps global organizations build better business relationships, has named Faye Business...

Read More

Forrester defines the customer journey as the series of interactions between a customer and a company...

Read More