5 CRM Adoption Tips for 2018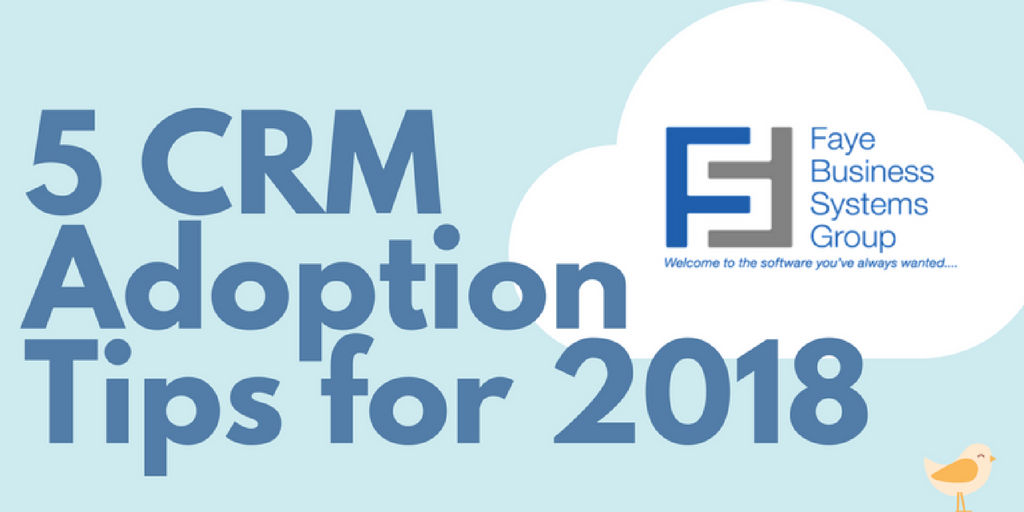 5 CRM Adoption Tips for 2018
Let's face it, in some organizations, it can be ridiculously difficult to get people to adopt CRM. There are so many factors that make an impact, from the mindset of the management to how tech savvy the employees are. Every element has an impact on whether the CRM is used or abandoned. If you are having a challenge with adoption or are thinking of implementing CRM, these 5 tips and infographic are for you.
1. Management Must Use the CRM
Time and time again, I am on calls with organizations where the management team wanted the CRM, approved the CRM, told everyone they had to use the CRM but they still want to manage by spreadsheets. I totally understand change is hard and old habits die hard. The bottom line is that if your management doesn't use the CRM, everyone will know it and they will also know that they can get away with not using it.
Management must use the CRM to drive adoption!
2. One-on-Ones and Meetings via Dashboard
Every meeting needs to be run with aid of a CRM dashboard. If your sales managers conduct weekly one on ones with sales reps, those meeting needs to be done with a Dashboard. Preferably, a dashboard specifically for that rep. If your Customer Service team has a weekly meeting to review high priority issues, the data needs to be on the screen using a CRM dashboard. This habit reinforces that your organization is going to the CRM for decision making data. If it isn't in CRM, it doesn't exist.
One on one and meeting need to be run using CRM Dashboard to drive adoption!
3. Automated Sales Alerts
Sales people generally dislike the idea of being required to enter everything in a CRM. However, if when they enter data, the CRM provides sales alerts that help them sell more and hit quota, they will start using it. Every effective CRM has the ability to send out automated sales alerts.
• No calls logged on a Lead in 24 hrs – Alert
• No sales activities logged to an Opportunity in 1 week – Alert
Automation that provides reminders to busy reps and helps to close deals will drive adoption!
4. Competition
The best sales organizations I have ever worked with or implemented CRM for has ongoing sales competitions.
• Sold the most deals on the team this month, bonus.
• Logged the most calls this week, bonus.
• Most up to date CRM data, bonus
If you can drive each competition off the numbers in the CRM then you will get adoption. Because if it isn't in CRM, no bonus.
Having your competition metrics in the CRM will drive adoption!
5. Monitor the Metrics
In order to get what you want, adoption, you have to inspect what you expect. Create reports on calls, meeting, emails, contacts entered and other metrics. Schedule these reports to automatically go to managers who will follow up with the users who have the lowest number of actions in the CRM. These users may need additional training, they may be late adopters and need a reminder or other action may need to be taken.
Inspecting what you expect will drive CRM adoption!
Grab your infographic of our 5 Tips on CRM User Adoption here!

Featured
Rankings season is upon us with March Madness right around the corner. It's been another year...

Read More

SugarCRM Inc., the company that helps global organizations build better business relationships, has named Faye Business...

Read More

Forrester defines the customer journey as the series of interactions between a customer and a company...

Read More