Using Sage 100 Customizer to Create a Perfect Fit for Your Business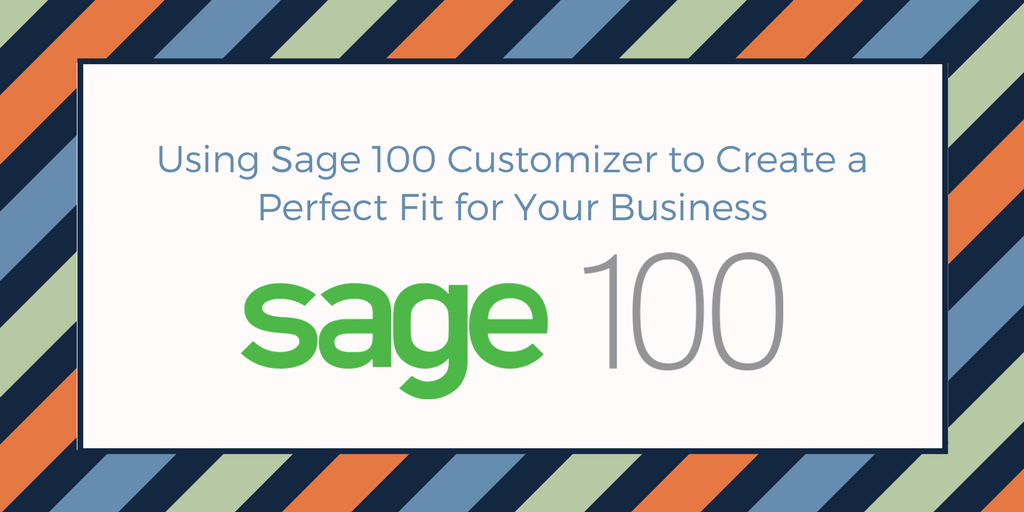 When you originally purchased Sage 100 (formerly "Sage MAS 90 / MAS 200"), you were probably looking for software that did MOST of what you needed right "out of the box." But every business is unique and we often find that our clients would like to modify a few screens, change some of the default field labels, and maybe add a custom field or button here and there.
That's where the Sage 100 Customizer comes in. It allows you to modify your Sage 100 installation so that it fits your business like a glove. Let's take a closer look.
Reshape That Box of Software
With Customizer, you can create simple modifications that do NOT require a programmer. For example, maybe you'd like to change some of the default field labels/text to better match the terminology used in your industry (i.e. a medical practice might use "Patient" instead of "customer"). Or how about adding a custom field in the sales order entry screen to capture information to assist warehouse personnel during order fulfillment? It can all be accomplished using Customizer. Perhaps best of all, you can make these modifications without technical programming skills or modifying source code. You'll also reduce your total cost of ownership because any changes you make using Customizer will automatically roll forward when you upgrade to a new version.
Improve Data Entry Speed and Accuracy
Using Customizer, you can rearrange the sequence of tabs on your screen, eliminate fields that you rarely use, and pre-populate forms with default values to reduce keystrokes. Any way you slice it, you'll improve data entry speed and accuracy because Customizer makes Sage 100 work the way you do, not the other way around. On most screens, you can also add extra user-defined fields when you want to capture additional information that's unique to your operation. And the neat thing is, the extra userdefined fields you create seamlessly carry over to your reports, printed forms (like order and invoices) and even the Business Insights Explorer, so you can turn this extra data into actionable business intelligence.
Experience the Power of Sage 100 Customizer
Whether you want to add a new field to a particular screen, create a button that launches another application, or just reduce keystrokes leveraging a wide range of customized changes, Sage 100 Customizer is the tool you need.
Contact Us to learn more or to give us a call to kick a few ideas around about how Customizer can help modify Sage 100 so it fits your business like a glove!
Featured
Today SugarCRM announced that the Winter '19 release is here and we're excited to share with...

Read More

Not too long ago, financial services professionals built relationships by reviewing clients' portfolios via a meeting...

Read More

For all the tremendous benefits of a modern CRM system, it's not a plug...

Read More