What's New in Sage 100 2018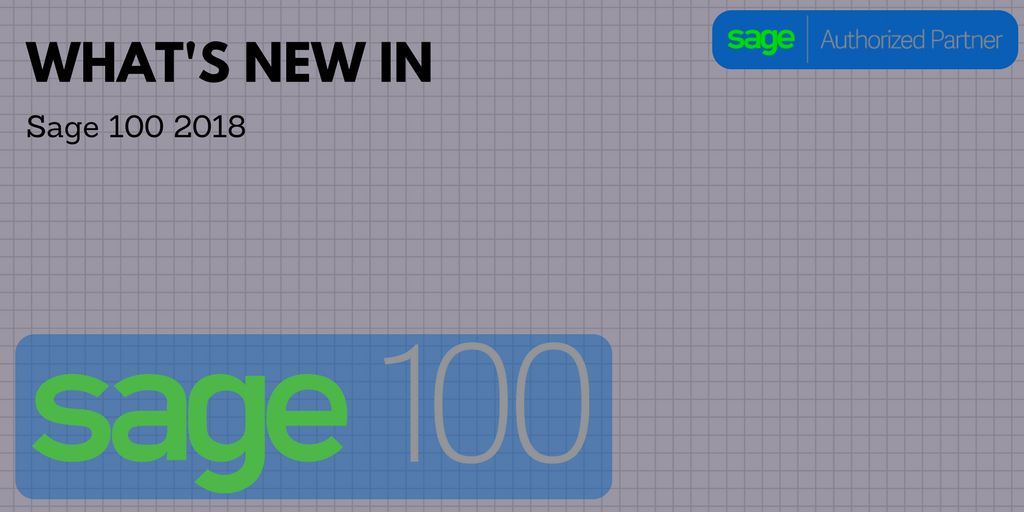 What's New in Sage 100 2018
Its official, Sage 100 2018 has been released and there are so many cool updates it took a 9 page document to encapsulate them all!
Among the new features are the following:
The redesign of Job Cost and Payroll
Enhancements to spell checking in several areas (100c feature)
Inactive and restricted statuses for warehouses (100c feature)
Optimized import record capabilities for barcodes from a mobile app
There are also some Sage Fixed Assets enhancements, such as:
For workflows there is now an update to help support quick and easy ways to manage your business
Tax compliance updates can now eliminate end-of-year anxiety for tax preparations
There is also a new tracking mobile barcode scanner app for Android devices bringing updates to the tracking module
It's very important to reach out to us to stay current on these Sage 100 updates so you can get the most out of your platform.
Resources
To learn more about the enhancements, see the following guides:
For a list of program fixes, see the Sage 100 2018 release notes.
For detailed installation and upgrade information, see the following guides:
Updates to Sage 100 2017.3
In addition to the Sage 100 2018 release, there have been updates to Sage 100 2017.3This release includes program fixes for Sage 100 and Sage 100c, including updates to Accounts Payable, Accounts Receivable, Bank Reconciliation, Bill of Materials, Business Insights and much more.

For more information, please see the Sage 100 2017.3 release notes.
Download instructions
Users may have received download instructions from Sage directly. Important: Before upgrading, please contact us to ensure that this update is compatible with your customizations, integrated third-party applications, and other configuration options. If you install this update independently, you assume responsibility for any impact to your system.

Reach out to us if you have any questions about any of the enhancements you've read here.
Featured
Having a business requires that you stay on top of your game – always. It also...

Read More

Every buyer faces this question: Who installs the software? While some companies do have the resources...

Read More

The Sage Fixed Assets module allows Sage 100 users to manage fixed assets effectively from acquisition...

Read More