Top 3 Benefits of Marketing Automation

The Top 3 Benefits of Marketing Automation
What is Marketing Automation? Marketing automation is the fastest growing business software that we've seen in a long time, with nearly 11 times more B2B organizations using a marketing automation platform in 2017 than in 2011, and 58% more planning to adopt in the next year. They jump on the bandwagon because marketers with a marketing automation solution compete in and win vastly more deals, with nearly ¾ of industry leaders utilizing marketing automation and forcing the hands of those that are falling behind, the main reason additional 21% of industry leaders plan to adopt in the next two years.
However, as I was talking about this with some friends working in tech-industry jobs, I noticed that three out of four could name examples of these platforms, but none of them had much of a clue what the software actually does. The powerful functionality of marketing automation platforms is what makes the technology so incredible and so sought after. Each solution offers different benefits and functions, but these 3 core functions are present across the board and are why we jumped on the bandwagon and never looked back:
1. Marketing ROI Visibility by providing the visibility you need in order to track the most important statistic: Revenue from marketing campaigns/channels.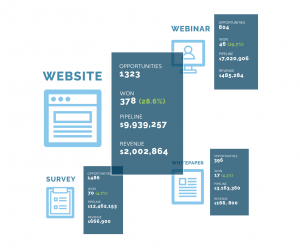 Marketing automation tools plug into your website and other advertising and marketing functions you utilize to not only bolster your web presence and drive more web traffic but also give a dynamic view of that traffic and tell you which types of web hits you get and which sections of those hits are turning into your new revenue. This means that marketing automation solutions provide you with greater visibility for your clients to find you, but also creates a more in-depth view of the marketplace so that you know more about your leads and new business than ever before.
2. Converting qualified traffic into more (and better qualified) leads.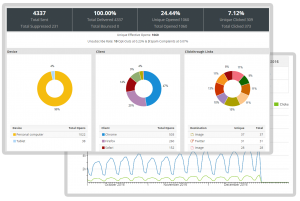 While the email marketing solutions of the past decrease time spent to reach leads and prospects we market to, we all have felt the pain of not seeing or measuring an impact the software we were paying for upon the new leads in the pipeline. With marketing automation, your salespeople get notified when their hot clients interact with the product(s) they seek, meaning you are put in front of them at the right moment and never knocking down the door at the wrong one. Your prospects can be segmented into lists for different campaigns, so that you can better identify and understand your most likely next buyers, those most interested in learning more, and even your clients at risk of going to a competitor.
3. Creating the most efficient marketing teams by giving a holistic overview of how leads are generated through which campaigns.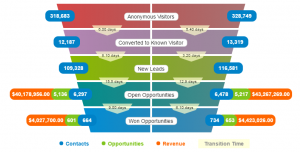 One of the most powerful aspects of marketing automation is the analytics/tracking functions. With a marketing automation platform, marketers won't just automate the process of their output and get notifications when leads are engaging with content, but will also automate the process of tracking and analyzing the overall engagement with content and marketing campaigns, allowing you to get the most detailed view of how effective your marketing efforts are, which strategies like campaigns, events, and subject lines perform best, and which types of targets you're reaching best. This type of analysis not only allows marketers to better gear the right message to the right client but will also happen live meaning your strategy is always improving as you deploy it to attract buzz and drum up new business.
Featured
Rankings season is upon us with March Madness right around the corner. It's been another year...

Read More

SugarCRM Inc., the company that helps global organizations build better business relationships, has named Faye Business...

Read More

Forrester defines the customer journey as the series of interactions between a customer and a company...

Read More