What is Marketing Automation

So you've been tasked with selecting a Marketing Automation tool. The words probably make sense to you, Marketing and Automation…automated marketing, right? Well yes, that's part of it. But what is Marketing Automation really? It kind of depends on who you ask, but in short, Marketing Automation software is a tool marketing teams use to track and execute their online marketing activities.
Marketing automation creates a digital infrastructure that allows marketing and sales to learn about, understand, and interact with buyers throughout the entire lifecycle – from attraction to
conversion to retention – in a well-timed, personalized way.
Some of the key things Marketing Automation does include:
• Email message and campaign creation
• Automated email campaign deployment and measurement (e.g., drip and nurture campaigns)
• Triggered emails
• Lead management and routing
• Automated lead nurturing
• Automated lead scoring
• Creation and hosting of landing pages and forms
• Website visitor tracking
• Social media marketing and sharing, including blog integration
• Inbound marketing, including some SEO capability and account-based marketing
• Database with segmentation capabilities
• CRM integration and automatic data synchronization
• Web events/webinar integration, registration, and management
• Tracking, reports, and analytics
• Third-party app integration
• Data capture of demographic, firmographic, and behavioral information for leads and customers
• Alerts that notify sales and/or marketing when a specific person or company visits a specific page on the website
Here are some marketing automation statistics.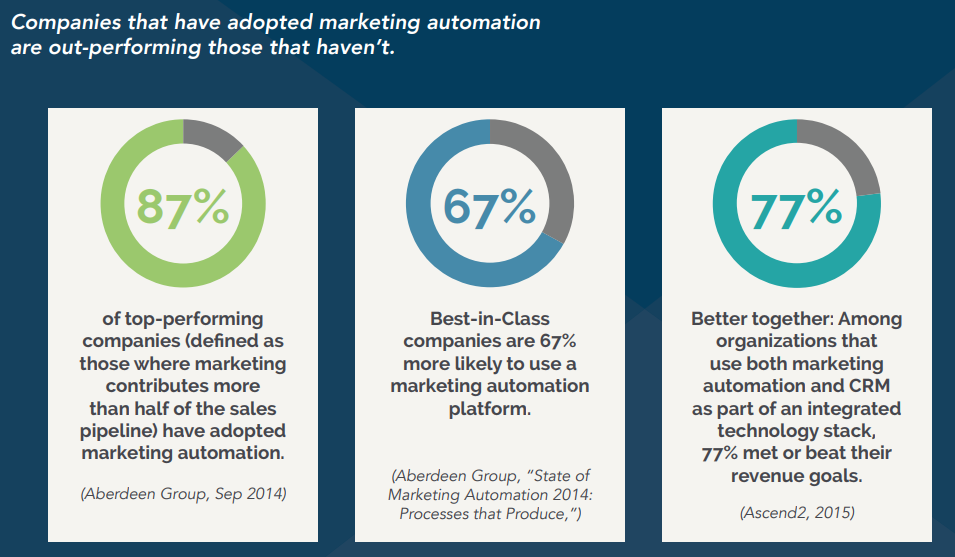 The simple fact is companies that have adopted marketing automation are out-performing those that haven't, and they also have a full arsenal of marketing tools to attract, capture and expand that they didn't previously have without marketing automation.
Marketing Automation is a technology that helps streamline, automate and measure marketing activities across channels. When done right, it drives key growth goals – building brand, generating demand and expanding customer relationships.
Here are some canonical definitions of Marketing Automation:
From the Marketing Automation Times: Marketing automation focuses on the definition, scheduling, segmentation, and tracking of marketing campaigns. The use of marketing automation makes processes that would otherwise be performed manually much more efficient and makes new processes possible.
From the Content Marketing Institute: A strategic marketing approach focused on creating and distributing valuable, relevant, and consistent content to attract and retain a clearly defined audience – and ultimately drive profitable customer action.
From Sales Lead Insights: Marketing automation is the use of technology to generate, nurture, score and qualify leads, and drive sales using customized, multi-touch marketing communications that are tailored to each contact's profile, level of interest, behavior, or place in the buying process.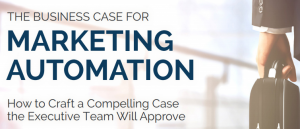 Virtually everyone who uses marketing automation begins by employing it for email marketing, then scales it in different directions, depending on need.
We've got a pretty great e-book you can download about the Business Case for Marketing Automation. If you need to craft a compelling case to your executive team for marketing automation approval you should check it out. You'll find some really great information about what Marketing Automation is inside as well.
Learn more about our Marketing Automation services.
Featured
Rankings season is upon us with March Madness right around the corner. It's been another year...

Read More

SugarCRM Inc., the company that helps global organizations build better business relationships, has named Faye Business...

Read More

Forrester defines the customer journey as the series of interactions between a customer and a company...

Read More