QuickBase: Top 5 Uses for the "Everyone on the Internet" user profile

QuickBase: Top 5 Uses for the "Everyone on the Internet" user profile
Companies must receive orders or feedback from clients in a single location. By using the "Everyone on the Internet" user profile in QuickBase, you can give controlled access to your customers in your QuickBase application. Think of it as a portal for your customers to deliver information directly to your internal office. You don't have to purchase additional licenses for your customer to interact with Quickbase.
Here are a few ways to use the "Everyone on the Internet" user profile.
1. Customer Satisfaction surveys
After you close out a project or sale for your customer, send them a link to a customer satisfaction survey within QuickBase. After they submit the survey, you can review customer responses within your QuickBase CRM.
2. Return test results to your customers with a unique web link
If your company runs tests (e.g. indoor air quality, soil samples, even knowledge tests) you can provide your customer a unique link to the results within your QuickBase application. They can review their test results as long as they have the link. On the back end, you can relate their test results to their customer record.
3. Customer Support requests
Give your customers a link to a support request form inside QuickBase. Turn your QuickBase application into a support application.
4. Submitting Work orders
Customers can submit a work order. When they include their email address on the work order you can send them an email with a link back to their work order so they can track the progress or provide additional information.
5. Request for Quote
From your company website direct the "Request a Quote" link to a form in QuickBase. Your leads can submit their information directly into QuickBase. Inside your QuickBase application, you can track the lead through the sales lifecycle. You can also track your sales team's response time.
Here's how you set it up in the Users table. Just add a new user and name it "Everyone on the Internet". Be sure to assign a role to limit access to specific forms and tables. Uncheck the Send email invitation and save. You're done. Anyone can interact with your QuickBase Application.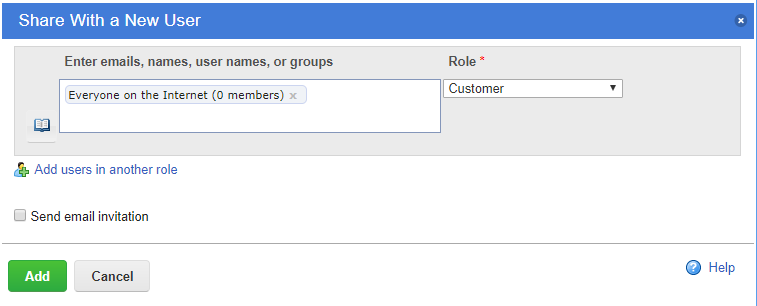 Featured
Rankings season is upon us with March Madness right around the corner. It's been another year...

Read More

SugarCRM Inc., the company that helps global organizations build better business relationships, has named Faye Business...

Read More

Forrester defines the customer journey as the series of interactions between a customer and a company...

Read More