Top 3 Reasons to Maintain your Sage 100 Business Care Plan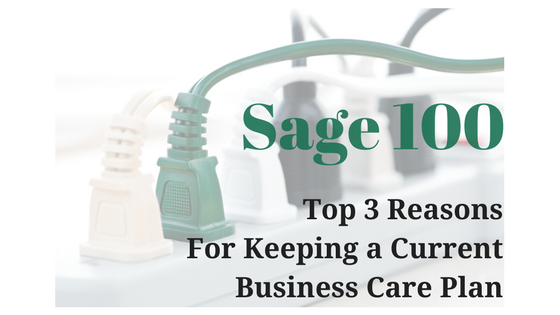 Top 3 Reasons to Maintain your Sage 100 Business Care Plan
A powerful and robust ERP system, Sage 100 is a core part of your business. Operating without a Business Care Plan is like sailing without a life preserver or driving without insurance. The costs of not supporting a current plan could far exceed the annual maintenance fees.
What is a Sage Business Care Plan?  A Business Care Plan is also known as a Sage Software Assurance and Support Program. There are many reasons to stay current with your Sage 100 Business Care Plan.  Most important are the below three reasons:
#1. Add Additional Users at Any Time
Staying current with your Sage 100 Maintenance Plan gives you the ability to add additional user licenses at any time. Without a current maintenance agreement, you cannot purchase additional licenses.
#2. Add New Modules at Any Time
With a current maintenance plan, you always have the ability to implement new Sage 100 modules and tools as your business grows. Without a current maintenance agreement, you will not be able to purchase new modules.
#3. Staying Current Keeps Maintenance Costs Low
If you opted to renew later, after the plan expired, not only would you pay for backdated maintenance from the time it expired, you would also be required to pay a penalty fee on top of the maintenance amount.
Some of the other major advantages to staying current with your Sage 100 Maintenance Plan include:
Having a current Sage 100 Maintenance plan lets you receive new product releases and new versions at no additional charge.
Receive product enhancements and program fixes to stay up-to-date and running smoothly
Have access to Sage Support, forums, and newsletters as well as Knowledgebase articles, downloads, and documentation
If you are currently using a Payroll Module, you'll automatically receive Tax-Table updates throughout the year
Access to Online Training
If you have gone off your current Sage 100 Maintenance Plan, not to worry! We are here to help. Contact us at Faye Business Systems Group, and we can discuss your options for getting back on plan today!
Featured
Rankings season is upon us with March Madness right around the corner. It's been another year...

Read More

SugarCRM Inc., the company that helps global organizations build better business relationships, has named Faye Business...

Read More

Forrester defines the customer journey as the series of interactions between a customer and a company...

Read More