SugarCRM Named Best CRM by PC Magazine
For the third year in a row, PC Magazine has named SugarCRM the #1 rated CRM for overall platform satisfaction. In the recent PC Magazine's annual Business Choice Awards for 2017, Sugar beat out such competitors as Salesforce, Microsoft Dynamics, Oracle and SAP, however there were 236 total vendors that participated in the PC Magazine Survey!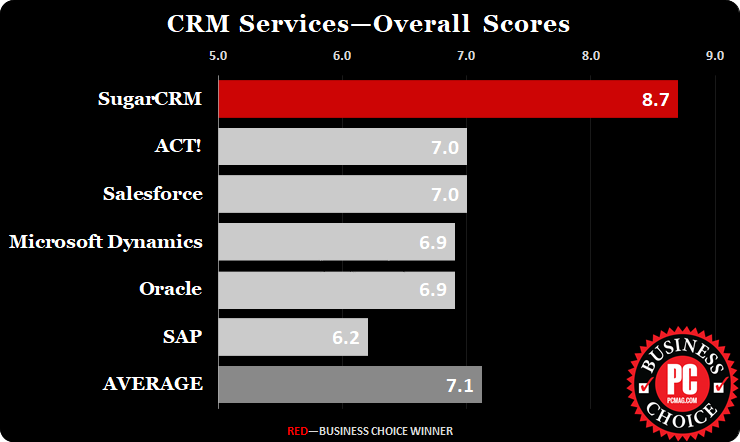 Source: PCMag, Business Choice Awards 2017: CRM
As noted in a recent SugarCRM blog post:
As the winner of the 2017 CRM award, Sugar earned top scores in all but one category (which is whether a user needed tech support). In the graph above you'll see overall satisfaction scores that show SugarCRM's striking ranking of 8.7 (out of 10, and with an increase over 7.6 from last year's).
In addition to overall satisfaction, PCMag asked their survey respondents a few key questions regarding their CRM, such as:
"How reliable is your CRM system?" (Ranking 1-10)
"How likely are you to recommend your CRM solution to a colleague?" (Ranking 1-10)
"Have you ever required tech support?" (Yes/ no)
"How satisfied were you with the tech support you received?" (Ranking 1-10)
Sugar received scores of 9.0, 8.8, 56%, and 8.6 respectively.
Visit https://www.sugarcrm.com/blog/2017/07/12/sugar-named-best-crm-third-year-row/ to learn more about the recap of all the finalists.
Featured
Choosing a new CRM isn't an easy decision. However, once an organization gets to the finish...

Read More

Should you host your customer relationship management software in the cloud? Short answer: yes. We're going...

Read More

Have you ever heard of Pareto's Principle? Neither had we by that name. But it's also...

Read More