Sage 100 2017 Q3 Tax Table Updates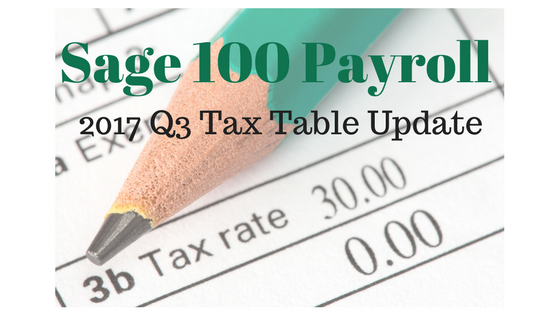 There is a new tax table update available for download.  This TTU includes an update for Kansas. If you do not process payroll for employees who live or work in Kansas, you do not need to install the revised TTU.
To download the updates, you must have a current Sage Business Care plan as of the tax table effective date. Both updates are only available by download.
1. Log on to the Sage Support Portal by entering your user name and password. You must be logged on, or you cannot access the tax updates.
2. Under My Products (on left side), click Sage 100 ERP.
3. In the Support Resources section (at the bottom), click Download Sage 100 Q3 Tax Table Updates for 2017
4. Select the applicable update link to access downloads.
File size : 2.2 MB
If you are unable to find the download, simply sign into the portal and click on this link which will take you directly to the download.
If you have questions about your Sage Business Care plan, please contact Sage customer care, or call 1-866-709-2432.
Please do not hesitate to contact us if there are any questions about this update or Sage in general. We are here to help you get the most out of your software!
Featured
Choosing a new CRM isn't an easy decision. However, once an organization gets to the finish...

Read More

Should you host your customer relationship management software in the cloud? Short answer: yes. We're going...

Read More

Have you ever heard of Pareto's Principle? Neither had we by that name. But it's also...

Read More