Long Live the Challenger Salesperson
Guest post from Brandon Sellers Vice President of Business Development @ Collabspot
Life as sales professionals as we know it is ending.
At least, it is according to Forrester. They estimate that up to 1 million B2B sales jobs will be gone by 2020, which accounts for approximately 20% of the current sales force.
If those numbers are correct, it would be a huge hit to the B2B sales industry. However, this isn't the first time a massive decline in sales positions has been predicted. The New York Times incorrectly predicted the end of sales professionals more than one hundred years ago.

The New York Times asked "Are salesmen needless?" during a period of great change for the industry. The entire process of sales was changing. At that time, most sales professionals went door to door to close deals, but as advertising increased in popularity, those types of jobs declined. But that didn't mean that all sales jobs disappeared.
The sales industry is experiencing a similar shift due to the rise of sales intelligence. While some sales professionals will likely lose their jobs in the next few years, the position itself isn't going away anytime soon. Instead, it is evolving, and there are two types of sales professionals at the center of the evolution: the order taker and the challenger.
The Order Taker

The order taker is the most common type of salesperson. They sell a simple solution to a single customer who knows exactly what he wants. The order taker quite literally takes your order at a fast food restaurant or finds your correct size at the boutique, but order takers are also found in the B2B environment. Order takers are reactive, mostly controlled by customers, and with the evolution of A.I. are quite unnecessary in the modern sales process. Order takers don't like risk or challenges, preferring instead to have customers come to them.
The Challenger

Challengers are the opposite of order takers. They sell complex solutions to customers who don't know exactly what they need or where they should buy it. Challengers don't just accept orders from customers. They challenge the customer, and help them decide what they need and what would be the best fit for their company. Challengers educate customers; often spending weeks or months working with the customer to ensure they receive a solution that solves their business problems. Challengers thrive on risk and challenges, and they enjoy prospecting and turning a no into a yes.
Which One Will Survive?

For years, both types of sales professionals were necessary to B2B companies. For simple products, an order taker can be ideal. Customers tend to know what they want, and order takers are more than willing to give them exactly what that is.
But since order takers primarily deal with customers who are ready to purchase, their jobs are easier to eliminate with new technology. It is becoming increasingly more common for customers to avoid interacting with sales representatives at all if possible – and it's possible. In fact, 93% of customers who have already made a buying decision would prefer to buy online instead of from a sales person.
Challengers don't rely on customers to find them, and they don't let the customer run the conversation. Instead, challengers seek new customers and take control of the situation. Challengers educate and create unique sales experiences for each customer.
Why Order Takers will Become Obsolete.

In today's market, 57% of the customer's buying journey is complete before they ever reach a sales person, thanks in large part to the dizzying amount of information available online. Websites, white papers, special reports, videos, social media, peer reviews, and blog posts are readily available to everyone so customers can compare and evaluate products themselves.
For order takers, this is bad news. The wealth of information available online makes it easy for customers to learn and make buying decisions without ever talking to a salesman. Once they've made that decision, customers can skip sales professionals entirely and place orders through  A.I. driven conversational commerce systems. Order takers aren't necessary in that scenario, which is they will take the biggest hit as sales positions decline. One estimate calls for nearly 40% of order takers to lose their jobs by 2020.
To survive in the upcoming years, sales professionals need to learn how to survive in a world where sales intelligence is essential.
How Sales Professionals Can Stay Relevant

To stay relevant in today's evolving sales environment, sales professionals must become more like challengers than order takers. That means challenging prospects to be better, providing them value through education, and making each sales process unique for the customer.
Challenge prospects to be better.

You should be challenging your prospects throughout the sales process. By challenging them, you are positioning yourself as an expert authority, someone who is credible and wants the best for them. Challenging your prospect will mean asking some tough questions. It can feel awkward, but it is a crucial part of the sales process.
Don't jump straight into the tough stuff, though. Ease into things by building rapport before breaking out a tough question. See how the prospect reacts. Push a little more and gauge that reaction. If you get pushback, try to determine why. Is it because you're hitting an area that's sensitive? Or is the prospect just resistant to the challenge?
Asking tough questions will earn you respect, even if it is grudging at first. But getting those answers are vital to moving forward. As you learn more about your prospect, you can help them see how they can improve. By pushing your prospect to be better, you're turning them into your ideal customer.
Provide value by teaching with every touch.

Your prospects don't need to hear a simple list of features and benefits. They probably don't even need to hear about the pricing. They already know all that – they read about it on your website and in your marketing materials. Instead, they want to know how you and your company can help them. Show them by providing value with every conversation.
The best way to provide value is by teaching your prospects as they go through the sales process. Help your prospects understand the market. If you see an opportunity for them to cut costs somewhere, point it out. If you spot a potential problem, share your concern and explain why you noticed it and how they can spot the same thing in the future. If things are drastically changing in their industry, take the time to educate them on the changes and how it affects them.
By providing value through education, you are also teaching your prospects to trust you for answers. When they need the answer to a problem, you can provide the solution and close the sale.
Tailor your messaging every time.

Thanks to constant exposure to content marketing and advertising, customers can smell a generic message a mile away. Templates do not cut it anymore. To succeed in an increasingly competitive market, you must create unique messaging for each client. And that means every single client, not simply picking a few personas and tailoring to them. Marketing to personas is a popular method, but it isn't effective anymore.
Creating tailored messaging requires a deep understanding of your prospect and their industry. Use the information you learn about them to craft compelling messages that tell your company's story, as well as your existing customer's success stories, in a way that speaks directly to your prospect. Make them feel like they are the heart of the story each time.
How Leveraging AI Can Help

With sales and marketing teams making up 50% of AI spending today, it's clear that sales leaders understand the importance of Artificial Intelligence. But many sales professionals fear that AI is a threat to their job. For order takers, it might be. For everyone else, AI can be an invaluable tool that can help you close more deals and keep your job.
Enhance, not replace

AI may be able to replace a simple order taker, but it can't replace a challenger. Instead, using the right AI tools can enhance your performance, increase your productivity, and help you close more deals. How?
By using the right combination of tools and platforms, challengers can harness the power of AI, turning the combination into a sort of assistant. Instead of relying on an actual human assistant, this AI assistant will be able to do all kinds of amazing things like taking raw data and turn them into detailed reports that are easy to understand or updating or filling in missing information for prospects. Imagine how powerful a salesperson you can be with that kind of assistant helping you.
Of course, to work effectively the AI will need access to as much data as possible. Tools like Collabspot for Sugar make easy to get crucial information in your CRM like email metadata and accurate deal stages and close dates.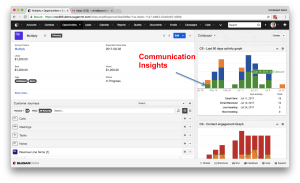 Survive or Thrive

Only time will tell if the Forrester prediction of a 20% decline in the sales force is accurate. The number of sales jobs has declined in the past decade, but 20% in four years is a large drop. Even if the numbers aren't quite so high, it seems inevitable that we will see sales positions disappear as AI and other sales technologies improve.
That doesn't mean you can't survive the sales evolution.
Order takers will struggle to survive as sales intelligence continues to rise, but challengers have the chance to thrive in this new world. By mastering the skills that set them apart as challengers and leveraging AI to enhance their performance, challengers have the chance to come out on top as superheroes in their field.
The sales professionals that want to thrive, not just survive, in the new world of sales intelligence will embrace AI and take on the mantle of the challenger as soon as possible.
Featured
Choosing a new CRM isn't an easy decision. However, once an organization gets to the finish...

Read More

Should you host your customer relationship management software in the cloud? Short answer: yes. We're going...

Read More

Have you ever heard of Pareto's Principle? Neither had we by that name. But it's also...

Read More