Creating Quotes in Sugar 7.9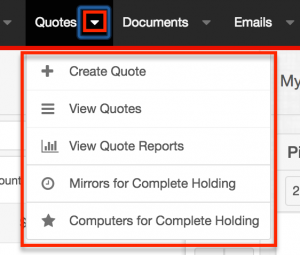 With the release of Sugar 7.9 comes a highly anticipated upgrade to the Quotes module. The Quotes module will look familiar if you work with other modules that have the sidecar interface. Within the new Quotes module, the Sidecar user interface includes:
Drag-and-drop line reordering, allowing users to easily arrange comments and quoted line items on the quote worksheet.
The ability to perform mass actions on multiple line items and comments to add them to a new group or remove them via mass delete.
The ability to search the product catalog by category and type in addition to name.
Optional groups, making groups no longer required for quoted line items and providing the ability to add line items and comments outside of a group.
The ability to save Quote PDFs from the related account or opportunity's Quotes subpanel as well as from the quote's record view.
Smarter relate fields, hiding inactive tax rates and inactive shipping providers from their respective fields on the quote record.
Sugar Logic, adding calculated fields in the quotes module.
Check out this great video that will give you a quick overview of the new Quotes module user interface in Sugar 7.9.
Featured
Rankings season is upon us with March Madness right around the corner. It's been another year...

Read More

SugarCRM Inc., the company that helps global organizations build better business relationships, has named Faye Business...

Read More

Forrester defines the customer journey as the series of interactions between a customer and a company...

Read More