Introducing Marketing Automation and Adaptive Journeys

Remember back in the day when we as companies used to be like He-Man? We held all the power! If a customer wanted to know about us, they'd have to do this thing where they actually picked up the phone and called us to get information. Customers sometimes would have to call countless people to see if they could recommend some way to get ahold of us.
Ah how I wish for the days of He-Man and "telephones."
Today this whole system has obviously changed, slightly. We're now seeing that 78% of customers start the buying process with a web search and 50% turn to social media for peer review and recommendations.
Today's customer journey has been digitally disrupted, and marketers must adapt to this by engaging their buyer with the right content, at the right time, with many different channels.
Take a look at this graphic here.  If we analyze Ben and Beth's journey, they both start with a web search.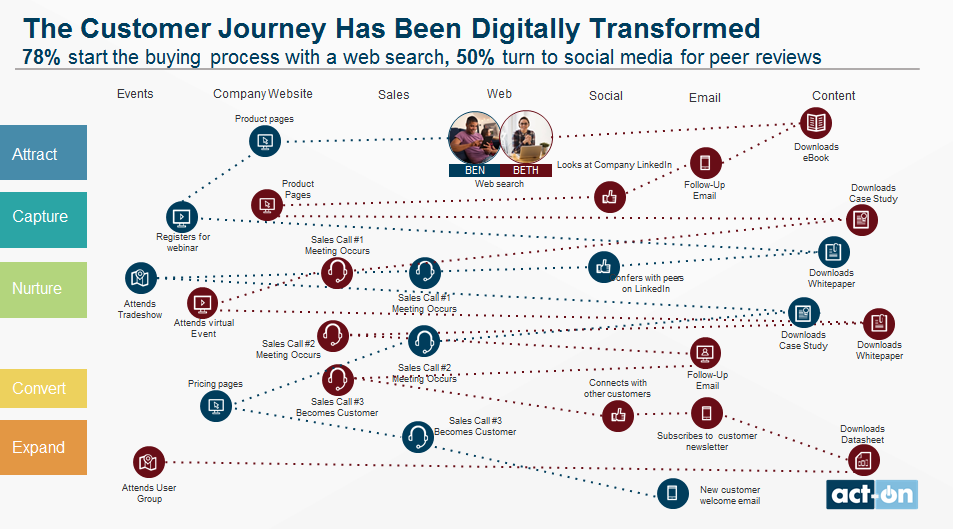 But as you can see Ben and Beth both take different paths before they eventually meet with a sales rep – covering multitudes of channels like webinars, content downloads, social media.
As they continue to engage with your brand over time, they become more educated and informed over time, making their direct interactions with sales even more valuable.
The point is that Marketers can no longer look at the customer journey as linear, but an ever evolving path that is unique to each individual.
In a webcast we did with Act-On (which you can see at the end of this post,) we briefly introduced how Act-On gives you the intelligence to map this customer journey and adapt your communication strategy according to each individual – all helping drive your marketing goals for your brand, demand and expand efforts.
It's called Adaptive JourneysTM.

In this webcast you'll see an introduction to the machine learning tool Act-On recently released called Adaptive Journeys. The Adaptive Journey tool is a new predictive engagement engine that brings point-and-click simplicity to personalize unique customer journeys.
In English, we translate this as a tool that Act-On recently rolled out that listens to all of your marketing activities, and then based on this data collected, recognizes behaviors, preferences, and interests, and uses that data to automatically adapt the message, the timing, and the delivery channel for more customized engagements.
This can be as simple as telling you what time of day is the best time to send an email to your specific audience.
Act-On is making Adaptive Journeys possible through predictive, behavior-based intelligence that can deliver:
The Best Message:
With Adaptive Segmentation™ marketers can dynamically create lists of engaged contacts by any combination of factors, whether that data is brought in from the CRM, captured via web form, or behavior insights that Act-On tracks; these segments can automatically adapt as new information is provided. In the future, more data from additional sources can be leveraged to further personalize engagement efforts.
Act-On's Adaptive Forms™ can now support conditional follow-up questions; dynamically presenting, or hiding, questions based on an individual's responses.
At The Perfect Time:
Act-On's Adaptive Sending™ can predict the best time to send a message to an intended recipient based on past behaviors and actions. The system will automatically send the message during prescribed 'optimal engagement window' for increased open and click-throughs.
Adaptive Scoring™ builds on Act-On's investment in big data that will enable marketers to go beyond conditional scoring rules, thresholds, and time windows – and give marketers the choice to automate scoring across different segments, industries, and buyers.
Through The Ideal Channel:
With Adaptive Channels™, Act-On's system will take advantage of machine learning to select the best channel (email, web, mobile or social) to send a given message across based on the individual's previous interactions with the brand.
Act-On is also building deeper partnerships with ad retargeting, SMS, and direct mail vendors. These partnerships will allow Act-On users to implement a more multi-channel marketing approach and be able to better adapt to their customers' preferred channels across any online or offline channel – be it paid or owned media.
Building genuine relationships with thousands if not millions of people simultaneously is no easy feat, but marketers have been doing it. What if that engagement could be smarter? What if the way marketers approached the buyers' journey could be optimized for a better, more personalized customer experience?
It can. Let us show you how.
Featured
Rankings season is upon us with March Madness right around the corner. It's been another year...

Read More

SugarCRM Inc., the company that helps global organizations build better business relationships, has named Faye Business...

Read More

Forrester defines the customer journey as the series of interactions between a customer and a company...

Read More