Using Tabs to Organize Records in SugarCRM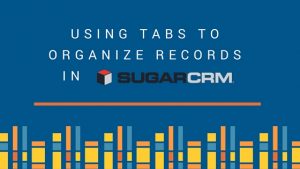 SugarCRM allows a lot of flexibility when it comes to how information is stored and viewed. The system Admin can set up specific and unique layouts for each module under the List View, Popup View, Search or Record View.
The Record View holds the core detailed information that a user will most frequently access, such as phone number, address, email, industry or website. Most often customers set up their Sugar records in a Panel view which allows all data on one page. However, a great, often underutilized, option is to implement the Tab views for certain modules that contain more complex or lengthy information. Instead of having a long list of data to sift through, creating tabs can help organize data and provide easier access for team members.

The tabs are completely customizable. Any name can be applied to the tab and any set of field data stored here. Using the Studio tool in the Admin screen easily allows these changes to be made and doesn't require any development. For more information on how to modify layouts please check out this article from Sugar which provides a comprehensive guide to get started.
Featured
The Sage Fixed Assets module allows Sage 100 users to manage fixed assets effectively from acquisition...

Read More

Rankings season is upon us with March Madness right around the corner. It's been another year...

Read More

SugarCRM Inc., the company that helps global organizations build better business relationships, has named Faye Business...

Read More