Sugar 7 On-Site Sizing Guide
Sugar is a highly flexible platform in so many ways. When it comes to hosting options, you can host your Sugar instance on SugarCRM servers, host your instance yourself on-site, or host on any existing public and private cloud option such as Amazon EC2 or IBM Softlayer.
Those of you that are considering an on-site installation, there are some useful tips to consider that can be found in the SugarCRM Support forum, but here is a general summary of what to keep in mind.
Sugar Sizing-Estimation Process
This crazy graphic (crazy to me!) shows a diagram of the Sugar sizing-estimation process.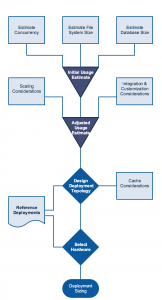 In the support post referenced, there is a wealth of detail outlining the Sugar sizing-estimation process, which diagrams the recommended order of execution steps when deploying Sugar on-site.
These steps include:
Estimate user concurrency and throughput
Estimate the file system size
Estimate the database size
Create an initial, overall estimate
Create an adjusted estimate based on scalability and integration and customization considerations
Design a deployment topology using the adjusted estimate, cache considerations, and reference deployments
Select the appropriate hardware based on the deployment topology and reference deployment
Deploying Sugar on the host of your choosing is just one of the many ways you end up saving money on CRM costs. Contact us today to find out more information on how to host your Sugar instance.
Featured
Choosing a new CRM isn't an easy decision. However, once an organization gets to the finish...

Read More

Should you host your customer relationship management software in the cloud? Short answer: yes. We're going...

Read More

Have you ever heard of Pareto's Principle? Neither had we by that name. But it's also...

Read More