Sage 100 vs. Sage 100c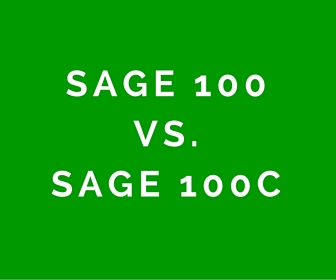 With the Sage 100 2016 release, Sage announced tons of new upgraded features and enhancements that make running your business easier. In Total, Sage 100 2016 includes over 20 enhancements to help you stay compliant, more easily enter data, set preferences, print or customize reports, and automate sales order expiration dates.
Sage 100C is one of the new 2016 release enhancements. Sage 100c is a modernized, subscription only version of Sage 100.
The "C" stands for connected, collaborative and customer-focused. Sage 100c will give you the freedom to stay with the trusted solution that you've counted on for years. You'll have the confidence to leverage new technology at your own pace without disrupting your business.
Think of Sage 100c as a "deluxe" version of Sage 100. The interface has been freshened up.
Sage 100c is based on the same Sage 100 business management platform offered for decades, now modernized with a new user interface and mobile access. Otherwise, Sage 100c features the same capabilities as the latest version of Sage 100 (currently Sage 100 2016).
Sage 100c Highlights
Easier navigation
Change fonts on the desktop and task window, customize desktop themes, and
color schemes.
Persistent web content
Easily get to commonly used websites and activate services like Sage Payment Solutions and Sage Payroll Services.
Personalization and security
Individual users can change colors and themes, while accessing only the information they are authorized to see.
Application scaling
Change the resolution of your screen to fit properly on high-definition screens.
Business Insights Dashboard
Improved access to the Business Insights Dashboard, which has been given a modernized look.
Click here to download a PDF explaining a bit more about Sage 100c and What's new in Sage 100 2016.
Featured
Today SugarCRM announced that the Winter '19 release is here and we're excited to share with...

Read More

Not too long ago, financial services professionals built relationships by reviewing clients' portfolios via a meeting...

Read More

For all the tremendous benefits of a modern CRM system, it's not a plug...

Read More