How SugarCRM, Act-On and Dun & Bradstreet Clear Up the Post Trade show Haze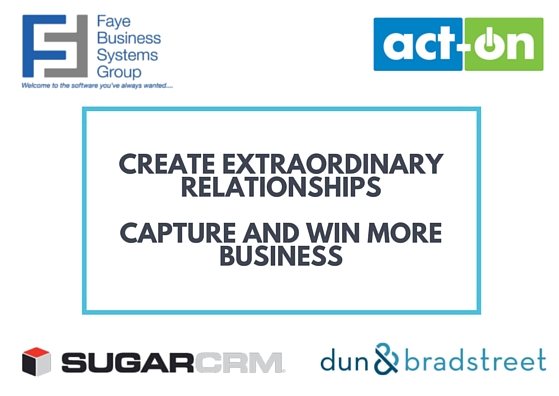 ---
Months and months of coordination and planning go into attending a trade show as an exhibitor. You've got checklists a mile long, and more deadline dates than a presidential campaign. To top it all off, you're doing it alone and there isn't a single entity that manages all the exhibitor services you'll need.
If you're in charge of event planning at your company, all of this probably sounds familiar. This might even bring back some unwelcome flashbacks.
Making it through the event is a miracle in itself, but when the show ends the real work begins. You probably met hundreds of people and had fifty different versions of similar conversations.

So how do you stay organized?
How are you going to remember all those people and the next steps for each?
What is your post-show plan?
In short, there are three answers: Sugar, Act-On and Dun & Bradstreet.
How SugarCRM Can Help with Trade shows and Event Planning
If you still aren't using CRM yet, then you're probably also not using Novocain at the dentist. Seriously.
All trade show long you're scanning badges; you probably shot that little red laser off so much you felt like the Terminator. There's definitely an art to figuring out the right time in a conversation to beam somebody up. After the show, you've got a massive list of prospects and it's incredibly important to stay in contact with everyone and track your interactions…it can also be totally overwhelming doing this.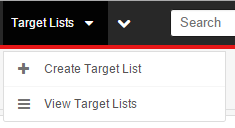 Sugar makes it easy to track and mass upload trade show prospects post event with Target Lists. A Target List consists of a collection of individuals or organizations you want to include or exclude in a mass marketing Campaign. Target Lists can contain any number and any combination of Targets, Contacts, Prospects, Users, and Accounts. Targets can be grouped into a Target List according to a set of predetermined criteria such as lead source (trade show) age group, geographic location, or spending habits.
Before you upload your trade show Target List make sure to create a Notes or Description section in your excel file. This is where you'll make any trade show notes about each prospect. Then, when you upload your list to Sugar, you'll just simply map that section in the import process. It only takes seconds to upload, and once it's done, you've got your target list and everyone on the team now has access. You can begin tracking all engagement in one place!
How Act-On Can Help with Trade shows and Event Planning
If you aren't using Marketing Automation yet, it's okay…we forgive you. But if you haven't even heard of how Act-On can help you create revenue generating marketing programs, we're here to help. See here, here and here!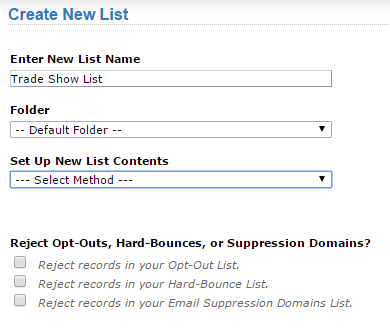 The integration between Act-On and Sugar was the main reason we started using the platform. It's awesome. Call me, I'll tell you all about it.
Once you've got your Target List all set up in Sugar, just import the same list in Act-On. (Once you upload the list in Sugar, Act-On automatically syncs that information, but you'll need to organize the list in Act-On). Any edit you make in Sugar will be reflected in Act-On, but more importantly, you can now run a comprehensive marketing campaign to your trade show list.
Use Act-On to build a landing page to engage this audience, get prospects to sign up for relevant webinars, and build easy nurture campaigns to keep your trade show list engaged.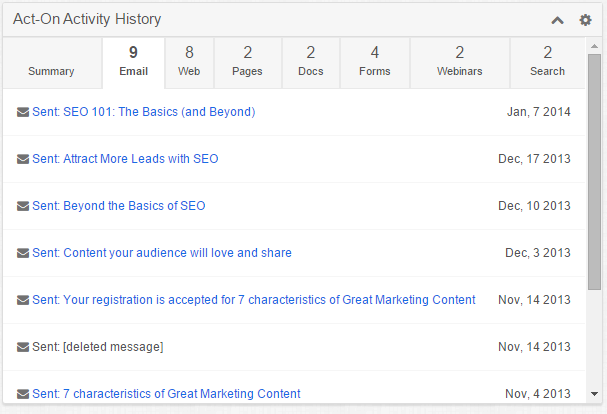 Every single email you send, every single page that a person on that list visits on your site, every single form filled out or white paper downloaded…you'll be able see it all with Act-On, and in Sugar, and take immediate action.
How Dun & Bradstreet Can Help with Trade shows and Event Planning
If you haven't activated the D&B connector for your Sugar instance, than you're missing out on a few incredible tools to help you after your event.
D&B for Sugar allows you to activate customer intelligence. This means that you can get unparalleled business data inside your CRM. Look up your new leads and see prospect information from: Financial, social media, news, corporate family trees and other invaluable contact information.
With First Rain by D&B, you get information on customers that have the most buzz about them from a news and social media perspective. It also qualifies account updates by whether those events have a significant impact to your selling process, reasons to keep in touch with your clients or just items that are good to know.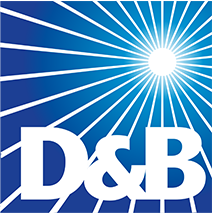 Finally, with the D&B Optimizer you can fill in missing information from your prospects. This means you can complete incomplete records, or sift through duplicate and incorrect records. Your database is run through the D&B system to identify those corrections and give you the opportunity to revisit old or stale opportunities that may be a result of bad contact information.
Contact us today to learn more about how Sugar, Act-On and D&B can flip your organization's productivity on its head. And good luck at your next trade show!
Featured
Rankings season is upon us with March Madness right around the corner. It's been another year...

Read More

SugarCRM Inc., the company that helps global organizations build better business relationships, has named Faye Business...

Read More

Forrester defines the customer journey as the series of interactions between a customer and a company...

Read More