Drowning in Quick(Books) Sand?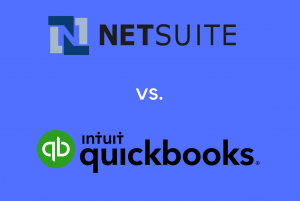 NetSuite vs. QuickBooks
Over the years, QuickBooks has become the de facto standard financial software for small businesses, with more than 5 million businesses using it. QuickBooks is the best fit for many businesses on day one, but is it the right choice to enable rapidly growing businesses to sustain and accelerate growth?
In many instances, QuickBooks is inadequate. It lacks many of the capabilities that growing businesses need and provides limited real-time visibility into essential business information.
Because of QuickBooks' limitations, companies are often forced to grow by adding more systems or applications for specific purposes—which often aren't integrated with each other—and may revise or attempt to automate certain business processes. This can result in a complex "applications hairball" that's rife with manual tasks and bottlenecks, increases the risks of errors, can hurt the customer experience, and can limit growth.
For years NetSuite has worked with growing businesses in all industries and geographies, and with thousands of finance and IT professions who are guiding their companies through different phases of development. While these businesses are diverse, their challenges in dealing with reaching the limits of QuickBooks are often similar.
NetSuite enables QuickBooks customers to transform their business by taking their systems to the cloud. It's time to find out why fast-growing companies leave QuickBooks and adopt cloud financials to accelerate growth.
Download this white paper to learn about:

Five definitive signs that your organization has hit the limits of QuickBooks.
Top business benefits of using cloud-based business management software.
Real-world case studies from businesses that made the jump from QuickBooks to the NetSuite cloud.
[button link="http://campaign.fayebsg.com/acton/form/9763/0090:d-0001/0/index.htm" size="medium" target="_blank" color="red" lightbox="false"]Click to Download[/button]
Featured
Having a business requires that you stay on top of your game – always. It also...

Read More

Every buyer faces this question: Who installs the software? While some companies do have the resources...

Read More

The Sage Fixed Assets module allows Sage 100 users to manage fixed assets effectively from acquisition...

Read More