Top 5 Reasons to Integrate Software with a CRM System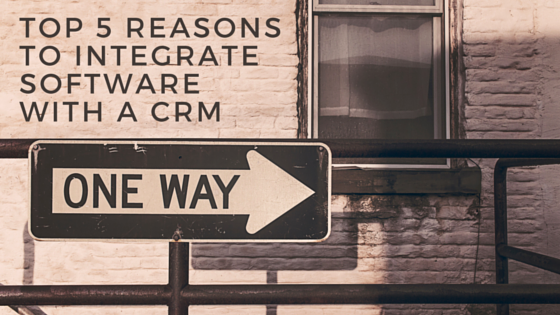 ---
If you spend 30 seconds on our website you'll quickly discover that we're slightly into building software integrations for Sugar. If you just landed on this page and this is news to you, here is a great starting point to get some background on what we do:
https://fayebsg.com/big-picture/
Our Sugar integrations bring CRM to platforms for ERP and Accounting Software, Marketing Automation, Project Management, Business Intelligence and Cloud Storage, to name a few. We often get asked the question, "Why should I integrate one with the other?" It's a valid question. After all, you would think that if you were to bring two pieces of software together to function as one, that somehow you'd lose the full functionality of one or the other, or there would be bugs such as a loss of data and increased duplicate work.
Not only do our integrations bring the full functionality of software platforms to CRM, but they actually reduce time spent within the software thus decreasing (eliminating) those situations where duplicate work comes into play.
With ten Sugar integrations under our belt, and more on the way, here are the
Top 5 Reasons to Integrate Software with a CRM System:
Integrating business applications such as QuickBooks, or NetSuite eliminates double entry of customers in both your CRM and your Accounting or ERP platform.
Critical updates that occur in accounting software, such as invoice or sales receipt history information can be used for marketing campaigns and salesperson inquires.
CRM integrations with ERP platforms synchronize customers, inventory items, sales history, quotes and orders, into one central database accessible by all users.
Cloud storage integrations with a CRM bring you the full functionality of your organizations files and archives to your CRM; this eliminates your "cave man search" of searching and tagging and uploading individual cloud files with their corresponding account.
Integrating CRM software aligns your sales and marketing teams by providing insight into buyer behavior, plus provides valuable prospecting tools to help generate more business. More leads + more visibility = more sales.
If you'd like more information about integrating the software you've read about here, or are interested in custom software development, give us a shout. We look forward to working with you on any project that will streamline your operations.
[button link="https://fayebsg.com/contact-us/" size="medium" target="_blank" color="blue" lightbox="false"]Contact Us[/button]
Featured
Rankings season is upon us with March Madness right around the corner. It's been another year...

Read More

SugarCRM Inc., the company that helps global organizations build better business relationships, has named Faye Business...

Read More

Forrester defines the customer journey as the series of interactions between a customer and a company...

Read More