SugarCRM vs. Salesforce: 16 Sweet Reasons Why To Choose Sugar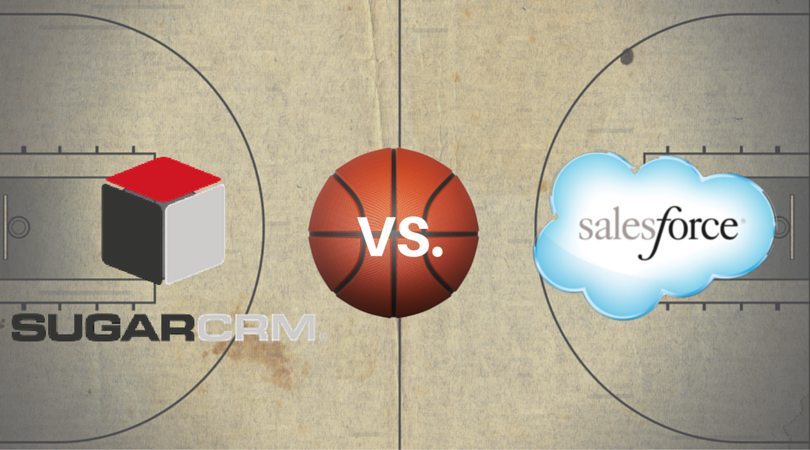 The Sweet 16 of the NCAA Men's Basketball Tournament starts today. Unless you live in one of these last places on earth without internet, you've probably noticed either a bit of a dip in employee productivity, or a lot of media attention dedicated to Shockers, Bulldogs, Bruins, Badgers and Wildcats to name a few.
It's not that big of a deal if you are oblivious to fact that March Madness is upon us, you may just not care (how dare you!). But what should be considered a pretty big deal is the fact that people are still paying upwards of 2x-4x more money to use Salesforce, when they could be using SugarCRM instead, the most innovative and affordable CRM solution in the market.
In honor of the Sweet 16 finally being upon us (go Bruins btw), we've compiled 16 sweet reasons why customers should choose SugarCRM over Salesforce.
16 Reasons Why Customers Choose SugarCRM over Salesforce
1. Salesforce is generally 2-4x more expensive than Sugar. In addition to the high license costs and additional mobile license costs, Salesforce sets dozens of artificial limits resulting in many hidden costs post purchase.
2. Salesforce is no longer focused purely on CRM and is attempting to lock customers into their platform, which is evident by their acquisitions and partnerships.
3. If you haven't noticed, Salesforce has a complex pricing scheme, with separate pricing for sales cloud, marketing cloud, service cloud, chatter, platform, data.com, and work.com.
4. Every time you want to add some new cool feature, you better open up your wallet.
5. The Core User Interface is decades old.
6. There is no Intelligence Panel to display rich information on one page.
7. There is no offline mobile edition.
8. Most configurations are limited to an administrator.
9. Deploy only in the SFDC cloud; Salesforce does not support any public clouds or on-site.
10. Integrations are available only through multiple complex and expensive proprietary languages (Apex, Force.com, Heroku, ExactTarget, etc.)
11. No EU datacenter for EMEA customers; significant data privacy vulnerabilities.
12. Not easily customizable due to use of proprietary technology and limitations.
13. Only Performance Edition ($300 / user) offers unlimited application and mobile development.
14. Salesforce corporate focus is on growth through acquisitions and very large enterprise deals, not on individual users.
15. If you want reporting and sales forecasting, it requires Professional Edition or higher.
16. Focus of product is purely on sales, not customers' success.
Click here for a free trial of Sugar, or to reach out to one of our Sugar specialists dedicated to clients considering switching from Salesforce to Sugar.
[button link="http://campaign.fayebsg.com/acton/form/9763/0055:d-0001/0/index.htm" size="medium" target="_blank" color="blue" lightbox="false"]Free Trial[/button]
Click here to access a calculator to see how much you can save by choosing SugarCRM over Salesforce.
[button link="http://www.sugarcrm.com/switch-sugar-salesforce" size="medium" target="_blank" color="blue" lightbox="false"]See Calculator[/button]
Featured
Rankings season is upon us with March Madness right around the corner. It's been another year...

Read More

SugarCRM Inc., the company that helps global organizations build better business relationships, has named Faye Business...

Read More

Forrester defines the customer journey as the series of interactions between a customer and a company...

Read More