SugarCon 2015 FAQ's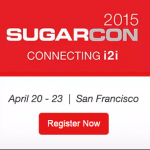 SugarCon 2015 FAQ's.
Find even more answers here: http://sugarcon.sugarcrm.com/faq/
CONFERENCE
When is SugarCon 2015?
SugarCon 2015 will kick off with a Welcome Reception on Monday, April 20th and end on Thursday, April 23rd.
What is SugarCon 2015?
SugarCon 2015 is SugarCRM's annual conference for customers, partners, developers and technology experts to explore the latest CRM trends and innovations. The conference includes three days packed with keynotes, breakout sessions and networking opportunities, including the SugarCon Conference Party.
Who should attend?
If you're looking to improve business performance by building extraordinary relationships with your customers, you should attend SugarCon 2015. The conference will be a dramatic first step toward business transformation.
Of course, if you're responsible for the use, management, or adoption of the SugarCRM Platform in your organization, SugarCon 2015 just can't be missed. It's the place to learn about the latest product enhancements and best practices for using CRM to transform your business.
Need to brush up on your skills? Register to attend SugarCRM training sessions led by SugarCRM University's expert trainers.
Where is SugarCon 2015 being held?
Hilton San Francisco Union Square
333 O'Farrell Street
San Francisco, California 94102
415.771.1400
Get directions
How can my company sponsor SugarCon 2015?
For sponsorship information, contact Patrick Pahl, VP Alliances at isv@sugarcrm.com.
What is the dress code for SugarCon 2015?
Dress code is business casual. While spring is often a warm time of year to visit San Francisco, you should plan to bring a jacket for excursions outside the hotel.
Featured
Rankings season is upon us with March Madness right around the corner. It's been another year...

Read More

SugarCRM Inc., the company that helps global organizations build better business relationships, has named Faye Business...

Read More

Forrester defines the customer journey as the series of interactions between a customer and a company...

Read More