NetSuite ERP Webinar: Real-Time Financial Management in the Cloud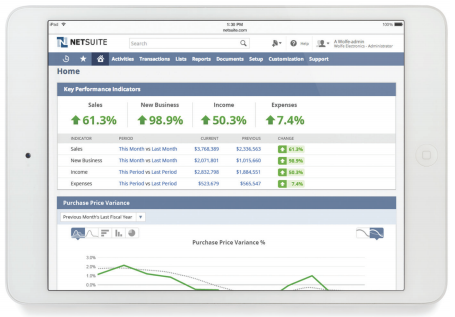 NetSuite ERP, the World's #1 Cloud Based ERP Solution.
Organizations today demand financial management solutions that are flexible enough to accommodate dynamically changing business needs. NetSuite ERP helps organizations increase efficiency, improve visibility and set the foundation for good governance. NetSuite ERP enables organizations to manage IT costs, optimize accounting efficiency, streamline order management and procurement processes, eliminate manually-intensive spreadsheet-based reporting, and improve employee productivity.
Key Benefits
NetSuite ERP provides powerful capabilities that help companies achieve these benefits:
• Improved financial operations efficiency and productivity with a single, integrated system to handle all core processes for users anywhere in the world.
• Timely financial close centralizing management of all period-end close activities to reduce time and resources spent investigating and resolving errors.
• Ongoing compliance with revenue recognition, tax requirements and financial reporting in accordance with various accounting standards and government regulations.
• Real-time visibility to see consolidated financial results for any part of the business at a summary level, and all the way down to the underlying transactional details.
Get started with your no obligation FREE Product Tour of NetSuite.
Panelists
• Joshua Estes, Account Executive, FayeBSG
• Robert Fierros, Regional Sales Manager, NetSuite
Featured
The Sage Fixed Assets module allows Sage 100 users to manage fixed assets effectively from acquisition...

Read More

Rankings season is upon us with March Madness right around the corner. It's been another year...

Read More

SugarCRM Inc., the company that helps global organizations build better business relationships, has named Faye Business...

Read More