Use Authorize.Net for Safe Credit Card Transactions
With things like the Target credit card theft and the Heartbleed virus running around, there are plenty of threats to your online security as well as the security of your money as well as your customer's money. With that being the case you want to protect your customer while also protecting your business. We think that Authorize.Net can be a solution to these types of problems.
Authorize.Net is a payment gateway that provides fast, secure transactions that don't have to go through an expensive credit card processing network. These payment gateways can be online, in stores, or on mobile devices, offering options for you and your customers. Credit card processing through a payment gateway offers the security you and your customers want. This choice also allows you to save money and then pass those savings on to your customers. We think that this is one of the best credit card processing options available to businesses because of the speed and security that it provides.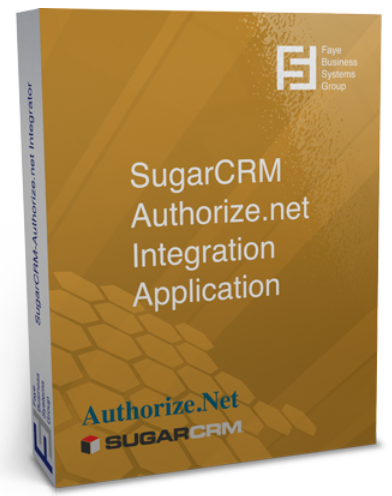 However, there is also another reason we really like Authorize.Net. And that reason is that the software can be integrated with other software, in this case, SugarCRM. We integrated Authorize.Net and SugarCRM to create the SugarCRM Authorize.Net Integration Application. Our Integration Application allows Sugar and Authorize.Net to communicate with each other and work together. By using them together, you can make dealing with credit card purchases even easier for you and your employees. While using the SugarCRM Authorize.Net Integration, you can:
Create profiles for your customers based on customer data. This means that when you use Authorize.Net to process a customer's credit card, their information can be used to quickly create a profile for them. This can help your other teams, including customer service, down the road.
Easily update customer billing information. This goes along with creating profiles. Once a customer is in the system, their information can be updated with new billing information because their profile is easy to find and access.
Avoid entering the same billing information for returning clients. As their credit card information is already in the system, you can avoid re-entering it when a customer's credit card is processed using Authorize.Net.
Authorize and charge credit cards from the different modules within SugarCRM, including Accounts, Contacts, Leads, and Opportunities. If you've converted a lead into an account, you can use that information to authorize and charge their credit card for purchases they make from your business.
We like Authorize.Net because it provides a safe and fast way to deal with credit card processing. We like SugarCRM because of its flexibility and ability to integrate with other software. And we really like our SugarCRM Authorize.Net Integration Application because it lets you do all of the above and even more. Please contact us if you'd like to set up Authorize.Net, SugarCRM, or the SugarCRM Authorize.Net Integration.
Featured
Rankings season is upon us with March Madness right around the corner. It's been another year...

Read More

SugarCRM Inc., the company that helps global organizations build better business relationships, has named Faye Business...

Read More

Forrester defines the customer journey as the series of interactions between a customer and a company...

Read More