SugarCRM and Zoho CRM: Pricing and Features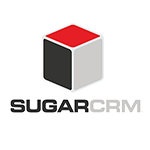 When choosing CRM software for your business, it is vital to find the right program that can meet all of your business needs. You want something that will be affordable, but also easy to use and with the kinds of capabilities you want so that you can be successful. In today's market, there are numerous pieces of CRM software available for you to use. Two of the more popular choices in customer relationship management software people consider are SugarCRM (obviously) and Zoho CRM.
As these are two popular options when it comes to CRM software, it makes sense to compare them so you can understand which might be better for you.
Price
Price is probably one of the first things you'll think of when choosing a CRM solution for your business.
How much does this cost?
Is it affordable?
Does this fit into our budget?
Zoho CRM comes in three different versions, a free version, a professional version, and an enterprise version. The free version is, well, free and has a user limit of three. The other versions have no user limits. The professional version costs $12 per user per month, or $144 for each user for a year. The enterprise version runs $25 per user per month, which comes out to $300 per user for a year.
SugarCRM offers three different editions, a professional edition, an enterprise edition, and an ultimate edition. None of Sugar's editions include limits on the number of users. There is also Sugar Community Edition, which is free, but is of course, free. The professional edition costs $35 per user per month, or $420 for a whole year. The enterprise edition is $60 for each user per month and $720 for a year. Sugar's ultimate edition costs $100 per user per month and will run you $1,200 per user per year.
In looking at the cost, Zoho CRM would seem to be the definitive winner. It looks to be more affordable, with the most expensive version still cheaper than Sugar's cheapest. However, this all leads to the next big thing when deciding on CRM software for your business and some common questions.
Features
Does this come with all the features I need?
Are the features worth this price?
While talking about Zoho CRM, we would answer no to the first question and a probably for the second. While Zoho comes with a lower entry cost, it doesn't come with all the features you'll want and you'll have to pay extra for the small upgrades. These are small upgrades that most would consider essential such as Outlook integration, iCalendar, and email blasts. While it may appear that Zoho is cheaper at first, these small additions can quickly stack up until you're paying more than you would for Sugar.
If we were talking about SugarCRM, the answers to the two questions we posed above would be yes and yes. Sugar offers the features that you want and need without having to pay extra for some basic functions. If those were the only factors, you might lean towards Zoho CRM, but SugarCRM has one feature, in particular, that Zoho does not.
Sugar is highly customizable. This can allow you to modify whatever you need about your CRM software to truly make it work for you. If you need it to function in a specific way, you can probably get it to function in that way. We believe that this feature alone can make the software worth the price. Sugar also comes with a large variety of modules built in, as well as other modules that can be added to the program whenever you need them.
In this comparison, we think that SugarCRM comes out on top. If you'd like to experience it for yourself to decide, try it free for 7 days.
Featured
Rankings season is upon us with March Madness right around the corner. It's been another year...

Read More

SugarCRM Inc., the company that helps global organizations build better business relationships, has named Faye Business...

Read More

Forrester defines the customer journey as the series of interactions between a customer and a company...

Read More